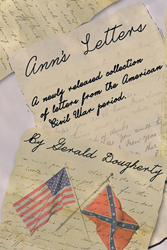 It's fun to compare our lives today to the lives of families in the 1860s.
Atlanta (PRWEB) May 13, 2014
With the 150th anniversary of the American Civil War currently underway, it is hard to believe that there are still letters and personal effects from that period tucked away in boxes and basements.
Finally coming to rest in the possession of Gerald Dougherty, 31 never-before-published letters have just been released in his book, "Ann's Letters." 19 of the letters are from soldiers that were sent from many sites in the southern U.S. From Nashville to the Confederate prison of Andersonville, these letters are wide-ranging and show both tactical and personal events that occurred within the ranks.
"These letters have been passed down through the generations of my family," Dougherty said. "They have survived 150 years without much damage which is amazing. They didn't have the advantage of climate-controlled storage until the 1980s."
The correspondences were saved by Eve Ann Huffman during the bloodiest war in American history. The letters show not only the struggles and anxieties of the time, but also the nuances of the relationships between families and soldiers.
"All the things these people valued were not a great deal different from things we value today; family, pride, self-worth, goodness, morality and love. Our forebears' needs were not much different from ours, despite the great differences in our cultures and times," Dougherty said. "It's fun to compare our lives today to the lives of families in the 1860s."
Though these people are similar to us in many ways, the differences are what make these letters truly astounding. Troops would write from the constantly-moving battlefields. They had to care for their stationery, lest it be ruined. The logistics of mail delivery in the 1860s made it difficult to get the right letters to the right people quickly. It was often thought that a family member may have died due to the length of time it took for a letter to reach its recipient.
To add to the new letters, Dougherty has included information to accompany the writings. Backgrounds and contexts are given for each letter to help the reader understand not only the person writing it, but the historical reference which helps the reader to see the war unfold through the eyes of the writers.
"Ann's Letters"
By Gerald Dougherty
Price: U.S. $17.95
ISBN: 978-1-4917-1619-9
Available in softcover, hardcover, e-book
Available on Amazon, Barnes & Noble and iUniverse
About the author
Dougherty is a retired chemical and technical engineer and worked in the oil and chemical industries, in laser spectroscopy and laser communication. He contributed in his own way to American history by specifying proper lasers for installation on NASA spacecraft. He currently lives in Atlanta with his wife of 58 years. Together they have 4 children and 6 grandchildren.
**For Immediate Release**
For review copies or interview requests, contact:
Matt VanScoik
317.602.7137 | mvanscoik(at)bohlsengroup(dot)com