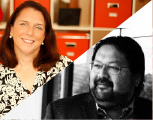 ...marketing automation can really help companies improve the efficiency of their marketing programs and generate more revenue.
Charlottesville, Va. (PRWEB) May 13, 2014
According to ExactTarget's 2014 State of Marketing report, 60 percent of marketers plan to increase their budgets for marketing automation. Despite this increased spend on marketing automation platforms like Marketo, Eloqua and Hubspot, the biggest challenge for many companies is utilizing it effectively in order to get the most value from their investment.
How can marketers ensure they're leveraging the lead-generating capabilities of marketing automation to their fullest? Digital marketing agency Marketing Mojo and MarketBridge, a provider of digital marketing and sales-enablement solutions, will answer this question during the upcoming webinar, "Maximizing Lead Generation and Revenue Using Marketing Automation." The webinar will take place on May 15, 2014 at 2 p.m. ET.
The webinar will be presented by Janet Driscoll Miller, President and CEO of Marketing Mojo, and Kelly Waffle, Vice President, Strategic Solutions Group at MarketBridge. Miller will discuss the importance of marketing automation for improving marketing efficiency and lead generation.
"Our own experience has shown that marketing automation has been a crucial component of our marketing strategy," said Miller. "Using marketing automation, we've seen a 25 percent increase in lead-to-opportunity conversion, as well as a 63 percent increase in opportunities won. This demonstrates how marketing automation can really help companies improve the efficiency of their marketing programs and generate more revenue."
Miller also adds that inbound marketing is key for creating demand and feeding leads into the top of the sales funnel. "Before you can leverage the tools marketing automation has to offer, the first step is to get leads into the funnel," said Miller. "There are a variety of inbound digital marketing tactics that can be used to generate leads, which I'll be discussing during this webinar."
One challenge many marketers encounter while using marketing automation is underutilization of the tools it provides, causing them to become idle with the platform. Waffle will be examining this challenge during the webinar.
"It is quite normal for an organization to hit a wall at some point after implementing marketing automation," said Waffle. "Hopefully the tips I will be providing will help these organizations to break down those walls and become re-engaged in driving leads and revenue."
To register for the webinar, go to marketing-mojo.com/lp/ma/.
About Marketing Mojo
Marketing Mojo is a full-service, data-driven online marketing and demand generation agency. Originally founded in 2005 as Search Mojo, Marketing Mojo has evolved its core services to adapt to the ever-changing needs and challenges of marketers – helping them to achieve their online marketing goals through search marketing, paid media, content marketing and marketing automation. With experience in a wide range of digital marketing disciplines, the Marketing Mojo team uses the latest information and techniques to help companies maximize the sales funnel and get the highest quality results based on their goals. For more information, visit Marketing Mojo at marketing-mojo.com or read the Marketing Mojo blog at marketing-mojo.com/blog.
About MarketBridge
MarketBridge is a leading global provider of digital marketing, sales enablement, and customer analytics solutions for Fortune 1000 and emerging growth companies. MarketBridge helps companies scale revenue growth and increase sales productivity by increasing digital customer engagement (social, mobile, on-line communities, e-commerce) and building robust customer analytics engines that focus marketing investments and sales activity on the right customers, with the right messaging and solution, through the right marketing and sales channels. MarketBridge's two core "Connected Marketing and Sales" solutions are RevenueEnginesTM digital customer engagement platforms and SMARTTM (Sales & Marketing – Analytics, Reporting, and Technology) predictive customer analytics and performance reporting.