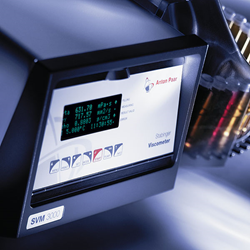 Ashland, Virginia (PRWEB) May 14, 2014
In December 2013, ASTM welcomed a new form of viscosity testing into the Diesel Fuel Specifications- D7042. This viscosity method for testing diesel fuel according to the ASTM specifications D975 can only be performed using a Stabinger Viscometer. As a result of this new specification, Anton Paar's SVM 3000 Stabinger Viscometer is the only approved instrument to perform the newly accepted D7042 testing method.
Positive benefits of D7042 include:

No glassware
No water bath
3.5 mL sample size
The D7042 viscosity testing method revolutionizes the way Diesel Fuels are tested: Peltier elements heat and cool the small sample while the SVM 3000 performs frictionless viscosity measurements considered statically equivalent to D445.
To learn more about the SVM 3000 Stabinger Viscometer and ASTM D7042 visit, http://www.anton-paar.com/astmd7042.