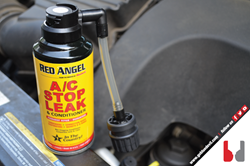 Charleston, SC (PRWEB) May 13, 2014
Every Friday, all summer long, Facebook Fans across the nation have a chance to win one of five cans of their popular Red Angel A/C Stop Leak. Red Angel, available online, is a "One Shot" stop leak and refrigerant charge for your vehicles A/C system that repairs leak points in condensers, evaporators, connection hoses, gaskets and o-rings, guaranteed. The drawing happens every Friday through August, ending with the grand prize drawing for one lucky fan on 8/29/2014.
In order to be eligible, visit BlueDevil Products Facebook page and find the promotional picture for the giveaway. Like the photo and you will be entered in every drawing for the entire summer!
Since 1997, BlueDevil Products has become a serious competitor in the automotive aftermarket with its complete line of chemical solutions. From cracked heads and radiators to oil pans and transmissions, BlueDevil Products manufactures quality sealants for various repair options in automotive systems.