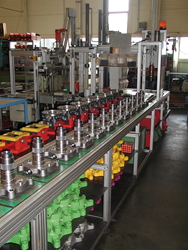 We now know exactly what staffing requirements are and can flex our workforce to fit the changing needs of our customers. - Director of Product Operations, GE Medical Systems Healthcare
South Lyon, MI (PRWEB) May 13, 2014
User Solutions, Inc. announces the release of Workcell Planner v2014, a spreadsheet calculator for single cell capacity planning for machine shops and fabricators. Workcell Planner is used by master schedulers, production planners and industrial engineers to determine both the equipment and staff capacity for maximum throughput.
The objective of the model is to provide the master scheduler or planning system with a tool for determining the overall level of capacity and distribution of capacity required to meet demand. This demand can be driven by a forecasted incoming rate or consuming a backlog within a specified time frame for a particular cell whether it be an individual work center, department, operation or the overall plant. This is what is required to facilitate finite capacity scheduling and level loading.
More specifically, the model:

Translates a forecast or backlog into machine and manpower requirements for each resource in a cell and compares this with the capacity given the current man machine configuration.
Allows easy 'what if' analysis of the interaction of setup time, lot size, operation yield, and work practices, such as working bottlenecks through breaks.
Allows analysis of flow consisting of multiple setups per part vs. batch, and the payoff from throughput of set up reduction results.
Clearly shows the bottleneck resource that limits cell output dynamically as factors are changed.
Shows what can be expected from the existing man-machine configuration and can be used to set expected cell output rates, shift schedules and manning levels with simple-to-use configuration.
"We now know exactly what staffing requirements are and can flex our workforce to fit the changing needs of our customers," Director, Product Operations, GEMS Healthcare
FEATURES
Capacity Balancing
Runs with all spreadsheets through 2013 - Excel, Lotus, Quattro Pro, Office 365
Production Planning
Integrates with and complements production systems - ERP, MRP, MES.
Resource Optimization
What-Ifs
Built-in Graphing
Source code included
LOW COST and FULLY COMPATIBLE
Priced at only $79 for a single user license and $158 for a multi-user license, User Solutions' products (sold directly from http://www.UserSolutions.com and through a number of Internet resellers) are guaranteed and include free trials and documentation.
About US: User Solutions, Inc. was created in 1991 to help manufacturers and other operations to become more competitive through managing key resources more efficiently. Their line of products, including Excel add-ons, custom .Net applications, and Web based offerings, are designed to adapt to specific customer requirements, quickly and affordably. For more information contact: us(at)usersolutions(dot)com, http://www.UserSolutions.com Toll Free: 800-321-USER(8737).