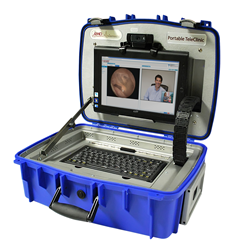 Portable TeleClinic™ is a complete pack-and-go telemedicine solution that can connect remote patients to the care they need, immediately. - Steven Normandin, President of AMD Global Telemedicine
Chelmsford, MA (PRWEB) May 13, 2014
AMD Global Telemedicine Inc. (AMD), the world's leading supplier of clinical Telemedicine Encounter Management Solutions (TEMS)™, announces the development of Portable TeleClinic™, a self-contained telemedicine system package in a mobile case for remote healthcare applications such as disaster response teams, emergency medical services, in-home clinical visits, oil rigs, mining fields and mobile health clinics.
Portable TeleClinic™ has the combined functionality of a desktop telemedicine solution and mobile cart with the added flexibility of easy transport. This system is packaged in an industrial case and includes an integrated tablet PC, CAT5 connection and industrial-grade powered USB ports. Each Portable TeleClinic™ can be customized with encounter management software and specialty medical devices such as examination cameras, ENT scopes, digital stethoscopes and ECG devices.
"We designed Portable TeleClinic™ to address the growing requirements from our customers looking for a flexible clinical exam station that they can carry into medical situations," commented Steven Normandin, President of AMD Global Telemedicine. "Portable TeleClinic™ is a complete pack-and-go telemedicine solution that can connect remote patients to the care they need, immediately," added Mr. Normandin.
AMD Global Telemedicine will feature the new Portable TeleClinic™ system in our booth at the American Telemedicine Association Conference in Baltimore, MD on May 17-20, 2014.
About AMD Global Telemedicine, Inc.
AMD Global Telemedicine, Inc. (AMD) is the leading provider of Telemedicine Encounter Management Solutions (TEMS)™ to over 7,400 patient end-points in more than 94 countries. Since 1991, AMD has pioneered the development of clinical telemedicine as a way of bringing quality medical care to rural and underdeveloped areas around the world. AMD provides personalized telemedicine solutions pairing our specialized medical devices with our data aggregation and communication technologies, in order to connect a patient with a remote clinical healthcare provider. For more information on AMD Global Telemedicine visit http://www.amdtelemedicine.com.
###
Contact Information:
Keri Dostie
Director of Marketing
AMD Global Telemedicine
Tel: 978-937-9021 x316