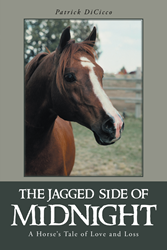 Where racehorse Summer Storm goes, murder follows
Los Angeles (PRWEB) May 13, 2014
The notorious criminals are not chasing any jockey who failed to meet their expectations. Nor are they pursuing the two-timing owner of a horse who has betrayed them, as is usually the case in novels involving the Mafia.
Where racehorse Summer Storm goes, murder follows.
Summer Storm is an innocent and beautiful horse that does not know the meaning of defeat. Apart from never losing a race, she has the spirit of a determined mare and is unrelentingly loyal and steadfast.
Things become complicated when it is discovered that the Mafia has been performing doping experiments on the young horse. As the scandal unfurls, escape becomes Summer Storm's only option.
"The Jagged Side of Midnight" by Patrick DiCicco describes the exile and resulting adventure of Summer Storm as she evades the threat of danger throughout the American west. Those who protect Summer Storm are put in the path of danger when finding out just how deep the doping conspiracy goes.
"The Jagged Side of Midnight"
By Patrick DiCicco
ISBN: 978-1-4917-1967-1
Soft cover price: U.S. $16.95
Available in softcover, hardcover, e-book
Available on Amazon, Barnes & Noble and iUniverse
About the author
Patrick DiCicco earned an AA degree and has taken creative writing courses at UCLA. Currently retired, he lives at the Del Webb community of Solara in Bakersfield, Calif. He is married and has five children and five grandchildren. This is his second book.
# # #
For review copies or interview requests, contact:
Matt VanScoik
317.602.7137
mvanscoik(at)bohlsengroup(dot)com