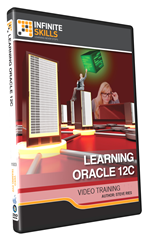 Learn Oracle 12c at your own pace
(PRWEB) May 13, 2014
Software training firm Infinite Skills last week introduced its "Oracle 12c Database Administration Tutorial," an introductory course designed for database administrators that teaches the latest version of this leading-edge database architecture.
With every release of its database software, Oracle continues to "ease customers' efforts," and to facilitate database services on the cloud, allowing IT to access all the benefits of the cloud, including resource sharing, management flexibility, and cost savings.
Infinite Skills' "Oracle 12c Tutorial," is designed to provide a broadly scoped understanding of Oracle's place in the database industry, as well as a guide to its installation and functionality.
Learning Oracle 12c Tutorial - Streaming Video
Course author Steve Reis has been an Oracle database administrator for over fifteen years, having worked with several large companies with extensive database systems. He currently works for the U.S. Department of Defense and the U.S. Marine Corps.
Reis has also taught Oracle classes at the community college level. He is an Oracle Certified Professional with five official certifications, a contributor to the Oracle 12c Beta Program, and has been a speaker at Oracle Open World on database security.
Here, Reis begins with an overview of the Oracle technology family, looking at hardware, operating systems, virtualization, and the ideas behind its integration with the cloud, before providing an introduction to Oracle's essential technology.
The course then continues exploring how Oracle databases work, looking at all the aspects of instances, the redo architecture, real application clusters, and the container and pluggable varieties of databases.
Next, Reis explains how to create an Oracle database, taking students through a step-by-step process, before looking at the essentials of its basis in SQL.
Other chapters cover the details of critical areas such as storage structures, database objects, database security, networking, and more.
"Oracle 12c is the latest version of the Oracle database system," Reis explains. "It is the most widely used commercial database system in the world."
"We'll look at Oracle's offerings across the entire IT stack, and focus on our particular interest, the Oracle database."
Free demo videos and a full list of course contents can be found on the Oracle Database 12c training page of the Infinite Skills website:
http://www.infiniteskills.com/training/learning-oracle-12c.html
Infinite Skills offers its Learning Oracle 12c Training Video either as a DVD or a direct download from the company website at a retail price of $99.95. Though the compatibility of programs varies, all Infinite Skills titles and formats are compatible with both Mac and Windows operating systems, and shipping is available around the globe. Additionally, Infinite Skills tutorials are supported by project files which correspond to examples in the videos.
About Infinite Skills Inc.
A leader in the field of software training, Infinite Skills designs its courses on a task-oriented model, teaching complex skills by providing hands-on examples and guiding users as they carry out essential functions. Infinite Skills offers a wide range of software titles available as DVDs, digital downloads, and in iPad editions. Infinite Skills now offers a subscription service, providing access to all its training content for a monthly fee, keeping with company's aim of delivering professional training to customers anywhere they want to learn.