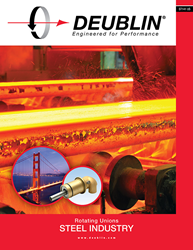 Waukegan, IL (PRWEB) May 14, 2014
A new catalog of rotating unions for steel manufacturing applications is now available from Deublin Company, in both print and electronic versions (see below).
The catalog provides detailed operating information and specifications for several model numbers and sizes, along with installation instructions.
Steel manufacturing employs a variety of Deublin rotating unions for applications including continuous casting machines (CCM), roll cooling, run-out tables, ladle turret, coil winding/rewinding, along with plane or self-aligning swivel joints.
"Steel manufacturing requires absolute reliability and maximum uptime that relies on Deublin rotating unions," explains Afzal Ali, Marketing Director. "Deublin has served the steel industry for over 45 years, with innovative solutions to the most demanding requirements."
The new catalog is available in both print (ST141 US), or as a PDF via the Deublin website: http://www.deublin.com/product-support/request-a-catalog/.
Founded in 1945, DEUBLIN Company is the leading manufacturer of precision rotating unions for water, steam, air, hydraulic, vacuum, coolant and hot oil service. With manufacturing or sales office in 17 countries worldwide, DEUBLIN international headquarters are located at 2050 Norman Drive, Waukegan, IL 60085-6747 USA Phone: 847.689.8600 Fax: 847.689.8690 http://www.DEUBLIN.com.