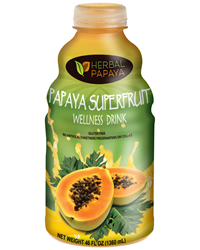 At Herbal Papaya, we are doing everything we can to bring the best papaya products to people year round, and educate everyone about the health benefits of this amazing fruit. The papaya superfruit wellness drink will launch in June
Wylie, TX (PRWEB) May 13, 2014
Herbal Papaya announced today that it is launching a new highly delicious Papaya Super Fruit wellness drink based in response to customer demands. It is also extending its line of USDA organic teas to include a Papaya Leaf and Seed Detox Tea, and adding several new supplements including a weight loss and a blood support blend to its product line. The Chief Executive Officer, Dr. Unoma Okorafor stated these new products were as a result of feedback they have been getting from their loyal customer since it started business in 2011 but especially following the Natural Products Expo West trade show in March 2014, where Herbal Papaya exhibited their products. Dr. Okorafor stated, "At Herbal Papaya, we are doing everything we can to bring the best papaya products to people year round, and educate everyone about the health benefits of this amazing fruit. The papaya superfruit wellness drink which will launch in June, is a blend of Papaya with ten other superfruits including Acia, Mangosteen, Nopal cactus and Beet. We are also currently undergoing non-GMO certification with the Non-GMO Project and looking forward to launching several new products over the next year are doing everything we can to bring the best papaya products to people year round and to educate them on the health benefits of this amazing fruit. The wellness drink, which will launch in June 2014, is a blend of Papaya with ten other superfruits including acia, mangosteen, nopal cactus and beet. We are also currently undergoing non-GMO certification with the non GMO project and looking forward to launching several new products over the next year."
In addition to the Papaya Superfruit Wellness Drink, the new supplements to be launched by Herbal Papaya over the next three months includes Papaya Weight Loss Support Blend, Papaya Lower bowel Support, Papaya Blood Support & Cleanse and Papaya Immune Support Blend With Probiotics, in Veggie Capsule. Herbal Papaya will also launch a kid-friendly Parasite Support Detox Blend and well as a Detox Tea.
The addition of these new products, as well as others in Herbal Papaya's product development pipeline, are evidence of Herbal Papaya's dedication to providing customers the highest quality organic papaya products and prove that the Herbal Papaya team, including founders, Dr. Okorafor and Jessica Oren, are innovative entrepreneurs at heart and in practice.
With the additional of new products Herbal Papaya has also decided to launch a Herbalist helpdesk and phone hotline to provide additional support to their customers. Anyone needing help either with deciding which product is best for their situation or wanting to gain more knowledge about the health benefits of Papaya is welcome to reach out to their in-house certified herbalist (herbalist@herbalpapaya.com or 800-820-4892 option 4).
Herbal Papaya spokesperson and herbalist Jessica Oren while promising customers will be treated to five star customer service, is quick to point out that they are not a health facility and cannot provide treatment options for any disease. Says Ms. Oren, "We have set up the herbalist helpdesk to better educate our customers on the benefits of papaya and how best to use it. As a small company, we are quick to respond to the needs of our customers. For example, based on the feedback we were getting on our Papaya Leaf Extract, we reformulated that product to employ a new patent-pending glycerin extraction process, thereby enabling us provide preservative-free extract blends."
About Herbal Papaya
Founded in 2011 by Dr. Unoma Okorafor - a Computer Engineer Ph.D and Social Entrepreneur, Herbal Papaya provides Papaya leaf, seed and fruit products, made from Organic non-GMO Papayas that are cultivated in a socially responsible and sustainable way, which makes them more economically viable for farmers. All products are Kosher-Certified and manufactured in an FDA approved facility in the U.S.A. Herbal Papaya is 100% women owned and operated, grows some of their Papayas on Farms in Africa and gives 10% of Profits to support education for girls in Africa. Through their giving, they have increased the availability of chemical free, organic and non-GMO papayas.
[http://www.herbalpapaya.com __title__ Learn More At:].
http:// http://www.herbalpapaya.com/media_kit.pdf