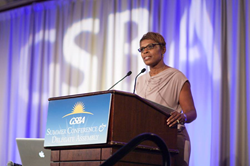 Decatur, GA (PRWEB) May 12, 2014
With only eight days left until the primary election, Valarie Wilson's campaign to serve as Georgia State School Superintendent receives a new, important endorsement from The Network for Public Education (NPE), a strong advocacy group that exists to protect, preserve, promote and strengthen public schools and the education of current and future generations of students.
This endorsement confirms Valarie's experience and continued commitment to be a fierce advocate for public education. "I am glad that Valarie Wilson has earned the endorsement of The Network for Public Education. She is eminently qualified, and has long served her Decatur community as an engaged parent and school board member; along with her experience at the state level, she has demonstrated the resolve, skills and acumen required for a nuanced role like State School Superintendent. But Valarie's main distinction is her willingness to fight fiercely to keep the public in public education," according to Bertis Downs, NPE Board member, Athens attorney and public school advocate.
The backing from the NPE comes on the heels of other important endorsements from the Georgia Association of Educators, Gwinnett Forum, AFL-CIO and the Georgia Association of Black Women Attorneys.
Valarie is a long-time advocate for public education who has spent more than 20 years in public service. She is a past member and president of the Georgia School Boards Association and has served on the City Schools of Decatur School Board. Valarie stands for adequate funding for education and support for teachers, and against the privatization of the school system through vouchers and for-profit charter schools. Learn more about Valarie and how to support her campaign at http://www.valforeducation.com.