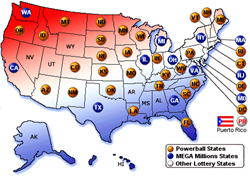 "As the leading provider of lottery results feeds in North America, we are pleased to announce the release of this new product. It is the most advanced lottery data platform available to digital publishers," said John Brier, TinBu's CEO
Pensacola, Florida (PRWEB) May 13, 2014
TinBu, LLC, North America's leading provider of lottery data feeds to digital publishers, is pleased to announce the release of their enhanced lottery data feeds. These enhanced feeds have features previously unavailable to web publishers and wireless application developers, making TinBu's lottery data feeds the most advanced lottery feeds in the world.
"As the leading provider of lottery results feeds in North America, we are pleased to announce the release of this new product which is the most advanced lottery data platform available to digital publishers anywhere in the world," said John Brier, TinBu's CEO.
TinBu's enhanced lottery results feeds are now available for licensing and contain the following features:

Lottery data is rendered with TinBu's SSL secure server.
Lottery drawing results, jackpots for all US lottery states update in realtime 24/7/365.
100% automated data updating leaving zero work for web publishers or application developers.
Past winning number search available, including a previous winning numbers calendar
Smart Pick: generate smart combinations based Hot/Cold/Overdue numbers. This is one of the most popular features among lottery players.
Random Pick feature available.
Number Matcher: Consumers can enter up to 10 combinations to check if they won in any of the past drawings for up to 10 draws of their lottery games of choice. The matching numbers will be highlighted in green and red. Our system will save the numbers for each game so the users can come back to the publishers website to check if their numbers were drawn.
Frequency Chart: User can check frequency chart of all lottery games for the past 20, 50 and 100 draws. There is a separate frequency chart for the "Powerball" in Powerball lottery and Megaball in Mega Millions Lottery. For the pick 3, pick 4 games, frequency charts are shown digit by digit.
If a specific lottery drawing will occur that day, the draw date will be highlighted in red bold italic font.
Payout information: Powerball and Mega Millions nationwide and state level payouts are covered. Dozens of individual State game payouts are also covered.
Jackpot Analysis for Powerball and Mega Million shows how much a person can win after Federal and State taxes for both annuity and cash option.
Prizes Matrix: Prizes and Odds table for each game.
Top 10 Historical US Jackpots chart.
Integration into a publishers website usually takes less than 5 minutes. Publishers can either use a nationwide entry page with US lottery map, or use a default State as entry page
Publishers can easily setup shortcut links to home State and neighboring states lottery results.
Data is presented in a clean format and is easy to navigate.
Available in XML feeds for mobile applications as well as the turnkey HTML integration for web use.
Available in English and Spanish allowing users to toggle between languages if they choose.
TinBu's enhanced lottery data feed can be previewed online at their website LotteryFeed.com by clicking on the below link http://www.lotteryfeed.com/our-lottery-feed.htm . This turnkey lottery results platform can be used by online newspaper groups, radio station websites, television new station websites, portals, search engines, and individual websites.
In addition to U.S. lottery results TinBu also supplies Canadian lottery results feeds, as well as lottery data feeds covering the EU, UK, Ireland, Australia, Mexico, Brazil, Colombia and most of Latin America and the Nordic countries. For more information on licensing TinBu's lottery data feeds contact Jim Schonewolf, VP of Sales and Licensing, at Jschonewolf(at)TinBu(dot)com.
About TinBu
TinBu, LLC, is a leading provider of lottery data feeds and other content to web publishers and digital media groups around the world. Available content feeds include lottery, U.S. gas prices, horoscopes, weather, celebrity news, recipes, daily comics, sudoku, stocks, finance and more. Content is available in English and Spanish and some additional languages including French. For more information visit them online at TinBu.com.