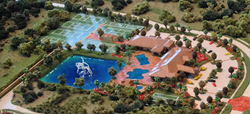 Delray Beach, FL (PRWEB) May 13, 2014
From lighted pickleball and tennis courts, to poolside cabanas, to the fully-equipped fitness center with trained staff, Villaggio Reserve's Cabana Club clubhouse promises to serve up resort-style, 55+ living in the heart of Delray Beach.
Currently under construction at Hagen Ranch Road and Atlantic Avenue, the latest 55+ community from developer Ansca Homes recently celebrated the Cabana Club's groundbreaking. Attendees witnessed the unveiling of the grand plans for Villaggio Reserve's 38,000-square-foot resort area and town square. Every detail at the Cabana Club has been custom-designed to provide the latest and most popular athletic amenities, personal activities and dining options to match the emerging tastes and trends of the 55+ marketplace.
"Buyers, visitors and guests who joined us for the groundbreaking discovered what we have known all along – that the 55+ homebuyer has such varied interests that no single amenity or activity will suffice," said Ron Yuter, senior vice president with Ansca Homes. "They chose Delray Beach, the city Rand McNally called 'America's Most Fun Small Town,' for a reason. At Villaggio Reserve's Cabana Club, fun will be a daily activity."
From games and crafts to private events, the Cabana Club will suit any preference or pursuit. Enter through the expansive foyer and lobby to a variety of multipurpose rooms certain to welcome card and board games, as well as arts and crafts. To the right will be pair of billiard tables. Across the lobby, the Grand Ballroom and social hall will host theatrical and musical performances and private events. The café will be open daily, offering indoor and outdoor lanai seating overlooking the community lake. Complimentary Wi-Fi Internet service will be available throughout the Cabana Club and patio deck.
Ready to work off that delicious meal? The Cabana Club will offer sports for athletes of all abilities. Inside, the fully-equipped and staffed Fitness Center will include a gym, sauna, massage rooms and men's and women's dressing rooms. Instructors will lead yoga and Zumba classes.
Outside, the resort-style patio area will have shaded cabanas overlooking the over-sized, lagoon-style pool with sitting areas, water fountains and areas for water aerobics, a lap pool, a therapeutic spa and a wading pool for the grandkids. Nearby will be six lighted tennis courts and a pro shop, as well as a bocce ball court.
Two lighted pickleball courts promise to be a hit at Villaggio Reserve. This low-impact, high-energy sport combines tennis, badminton and even ping pong on a court about the size of a tennis court's serving area.
Home buyers have discovered that the Cabana Club complements the contemporary designs and amenities found in each Villaggio Reserve home. Model residences offer coffered ceilings, granite countertops, Kitchen Craft Cabinetry®, upgraded wall-to-wall carpeting and padding, 18x18 ceramic tiles and colonial-style 8-foot raised panel doors.
Residences range from two to three bedrooms, with a combination of baths, dens, entertainment areas and separate eat-in spaces. Some residences have covered porches. All residences have a garage and impact-resistant doors and windows. Homes at Villaggio Reserve are priced from $270,000 to the $400,000s.
Those ready to live an exciting, active lifestyle should come see what the Cabana Club at Villaggio Reserve will serve up every day. Discover why Villaggio Reserve is Delray Beach's most exciting new community. Visit Villaggio Reserve on Hagen Ranch Road at Atlantic Avenue or online at http://villaggioreserve.com/. Call today at (855) 230-0998. The Sales Center is open from 9:30 a.m. to 5:30 p.m. Monday through Sunday.
About the company:
Villaggio Reserve is a premier community from Ansca Homes. Ansca Homes has grown into a leading Florida home builder proudly led by the experience of Angelo Scardina; his son Charles Scardina, president of the company; his son-in-law Ramsey Akel, vice-president; and his grandson Charles Scardina Jr., representing the next generation. With the vision and resources to continue to create homes and new home communities that feature uncompromising excellence and attention to detail, Ansca Homes continues to lead the way.