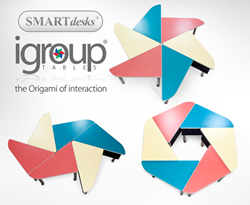 Value: $5000Entries will be accepted until 7/30/14, 12pm EST.One entry per person, please. The winner will be notified via email on 7/31/14.
Baltimore, MD (PRWEB) May 13, 2014
Win a set of 6 igroup collaboration tables!
SMARTdesks is giving away a set of 6 igroup tables which can be configured MANY different ways for flexible classroom collaboration.
The value of this prize is $5,000!
Entries will be accepted until 7/30/14, 12pm EST.
One entry per person, please.
The winner will be notified via email on 7/31/14.
If winner does not respond via email within 48 hours, a new winner will be notified.
iGroup: the Origami of interaction
Triangular iGroup Elements fit together to make interactive shapes. Each has a curved end on the user's side, either to the right or the left. Six Elements of the same type make radially symmetric shapes, such as the pinwheel, the hexagon, or an abstract that is a shifted pinwheel. They can also be arranged in pairs to make a rectangular, linear offset configuration. Set next to a wall, they provide a private space for individual study. Six Elements in mirror image can make reflective symmetric shapes: the equilateral triangle, the leaf, the comet, the football. Arranged in pairs, they resemble beetles. Arranged against the wall, they make chevrons for interactive pairs.
iGroup Elements may also be equipped with iDrawer storage for tablets and devices, power and data connection ports, and iPad flipIT for hands-free device support and instant storage with charging capability for multi-use classrooms.
About SMARTdesks:
SMARTdesks can generate a classroom floor plan or design a conference or meeting room with no cost or obligation to purchase. SMARTdesks collaborative furniture for classrooms and conference rooms is ready to be equipped with FlipIT mechanisms for computer monitors, iPads, or other tablets.
SMARTdesks enables customers to participate in real-time collaboration with the sales, engineering, and design teams by using our superb cloud collaborative platform. This platform fosters a project-specific, organized collegial approach to meet "room by room" requirements for the computer lab furniture client. Integrative design collaborations are unencumbered by coordination of schedules because all teams communicate directly through a single project pipeline. Our technical department can also work with the customers' IT staff to configure connection boxes with the proper power, telecommunications, and cable connections. Any computer, laptop, tablet, and video conferencing equipment will directly plug and play into the SMARTdesks' conference room furniture.