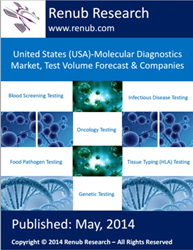 Rockville, MD (PRWEB) May 14, 2014
United States (USA)-Molecular Diagnostics Market, Test Volume Forecast & Companies
Molecular diagnostics is a rapidly–advancing area of research and medicine, with new technologies and applications being added continuously. Molecular diagnostics is the promising area which can transform disease diagnosis, as diagnosis based on symptoms and use of surrogate markers is replaced by genomic and proteomic analysis. This fundamental shift offers the promise for early disease detection, potentially before symptoms have even occurred.
United States molecular diagnostic market for 2018 is anticipated to more than double from its current value in 2013. In United States molecular diagnostic market, infectious disease controls the highest market share in 2013. But in terms of test volume food pathogen testing takes the lead pushing infectious disease at number two position.
Molecular oncology tests have emerged as a significant rapidly growing market segment. In the current medical diagnostics market, molecular diagnostics for cancer testing offers one of the brightest areas for growth and innovation. United States constitutes the largest regional market for blood screening and blood products. Molecular diagnostics is also starting to emerge as an important tool for HLA Testing, Food Pathogen Detection Testing and other disease areas.
In companies market share Hologic Inc., Myriad Genetics and Becton Dickinson together these 3 companies control more than 50% market share for 2013. However Becton Dickinson is expected to lose its market share gradually and Roche is expected to take its place by 2018.
To order this report:
United States (USA)-Molecular Diagnostics Market, Test Volume Forecast & Companies
Contact: Shauna
800.298.5699
Customerservice(at)marketresearch(dot)com
Renub Research
Renub Research is a full service market research firm providing customized and syndicated research solutions to business organizations. Renub Research services specialize in Energy, IT & Telecom, Insurance, Financial and Services sector. Our experienced team of analysts collate, evaluate data from credible sources so that you don't miss out on even the minutest detail of information in today's dynamic business environment. Our team of dynamic industry experts makes market research reports on various industries helping our clients in making strategic business decisions.
MarketResearch.com
MarketResearch.com is the leading provider of global market intelligence products and services. With research reports from more than 720 top consulting and advisory firms, MarketResearch.com offers instant online access to the world's most extensive database of expert insights on global industries, companies, products, and trends. Moreover, MarketResearch.com's Research Specialists have in-depth knowledge of the publishers and the various types of reports in their respective industries and are ready to provide research assistance.
Follow us on Facebook http://www.facebook.com/marketresearchdotcom
Follow us on Twitter http://www.twitter.com/marketresearch_
United States (USA)-Molecular Diagnostics Market, Test Volume Forecast & Companies - Table of Contents:
1. Executive Summary
2. United States Molecular Diagnostics Market, Test Volume & Forecast (2010 – 2018)
3. United States Molecular Diagnostics Market & Volume Share (2010 – 2018)
3.1 United States Molecular Diagnostics Market Share & Forecast – Application Wise
3.2 United States Molecular Diagnostics Market Share & Forecast – Company Wise
3.3 United States Molecular Diagnostics Test Volume Share & Forecast – Application Wise
4. United States Molecular Diagnostics Market & Forecast – Application Wise
5. United States Molecular Diagnostics Test Volume – Application Wise
6. United States Molecular Diagnostics Market – Company Wise
7. United States Molecular Diagnostics Market – Driving Factors
8. United States Molecular Diagnostics Market – Challenges