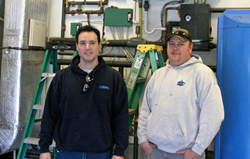 When we come out to do a service, we clean coils and so forth, but we're also looking for potential problems before they become problems.
Gloucester, Va. (PRWEB) May 13, 2014
Phillips Energy is pleased to announce that it has named Jonathan Miller the new HVAC (heating, ventilation and air conditioning) Manager.
"We added the HVAC department in 1998 to make Phillips Energy a true full service company for our residential and commercial customers," said John Phillips, President of Phillips Energy. "We're proud to see Jonathan in his new role and leading our qualified technicians who all believe in a job well done and a job done well the first time."
The Phillips Energy HVAC team is NATE (North American Technician Excellence) Certified, Universal Refrigerant Certified, Trac-Pipe/Gas Line Certified, NORA (National Oil Heat Research Alliance) Silver/Gold Certified, Master HVAC Mechanical Certified, Master Electrician Certified and Class A Contractors.
Originally from Iowa, Miller joined the Phillips Energy team three years ago.
"I have a background in heating and air and wanted to go to a place to work where I heard good things from the customers," Miller said. "I knew if a company treated its customers well it was a good company to work for."
When a lot of people think of Phillips Energy and heating and air services, Miller said, "they assume we only work on furnaces and boilers. But we do it all. If it makes the air hot or cool, we work on it – heat pumps, air conditioner, water heaters and dual fuel systems."
Now is the time of year, Miller said, homeowners should look at having their air conditioners serviced and inspected to make sure they're working properly.
"It's like taking your car to have an oil change and the mechanics also check everything else," Miller said. "When we come out to do a service, we clean coils and so forth, but we're also looking for potential problems before they become problems."
Miller calls the number one important thing for homeowners to be aware of as we enter air conditioning season is "to make sure that the drain for the AC unit is clear. You've had the fall and winter for spiders, mice and bugs to crawl up in that pipe. When you start to use it, you want the water to flow well out of it."
The Phillips Energy HVAC team this season is already working with customers to make sure their ACs are charged properly to make them more efficient.
"Ever notice your lights dim when you turn on your AC?" Miller said he asks clients. "It could be a sign that something is going on because the AC is pulling more power to come on."
As the summer season nears, Miller advises all homeowners to be careful when weed eating around their outdoor AC units.
"It's possible to damage a coil or cut through a thermostat wire," Miller said. "We go out on local calls every year where people nick that wire or it opens something up and it opens it up to corrosion. You can never be too careful."
Visit http://www.phillipsoilandgas.com to learn more about the HVAC department.
About Phillips Energy:
Founded in 1946, Phillips Energy, Inc. is one of upper Tidewater, Va.'s only providers of heating oil, on and off road diesel, gasoline, propane, dyed and cleared kerosene and lubricants. Phillips Energy serves businesses and families in, among other locations, Gloucester, Mathews, Yorktown, Williamsburg, Toano, New Kent, Newport News, Hampton and Chesapeake.
Phillips Energy also features a propane gas distribution division, propane appliance installation and service, HVAC installation and service and a 24-hour retail fuel facility. Located at 2586 George Washington Memorial Highway in Hayes, Va., the retail facility is open to the public with gasoline, diesel, propane auto gas, E85 flex fuel, and 20 percent biodiesel. The facility also offers fleet fueling for commercial customers.
Phillips Energy also has a location at 18404 John Clayton Memorial Highway in Mathews, Va.
Learn more about Phillips Energy at http://www.PhillipsOilAndGas.com.