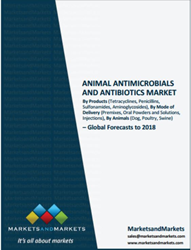 Rockville, MD (PRWEB) May 14, 2014
Animal Antimicrobials and Antibiotics Market by Products (Tetracyclines, Penicillins, Sulfonamides, Aminoglycosides), Animals (Dog, Poultry, Swine), Mode Of Delivery (Premixes, Oral Powders and Solutions, Injections) - Global Forecasts to 2018
Antimicrobials and antibiotics form a major share of the animal health market. Animal antimicrobials gained a greater importance in the animal health industry in the past 20 years, mainly due to growing need to preserve the health and welfare of animals. Most of the antimicrobial agents were also used as growth promoters as well. With this, the animal antimicrobials market witnessed a bullish growth from 1990's to 2006.
However, gradually, there were growing concerns about emergence of antibiotic-resistant bacteria which led to worldwide initiatives to minimize the use of antimicrobial agents as a growth promoter in food-producing animals. In Europe, in 2006, a complete ban was imposed on use of antimicrobial agents in food-producing animals, which brought a huge setback to the growing market for antimicrobial and antibiotics in Europe.
At present, the global antimicrobials and antibiotics market is driven by the growing need to preserve animal health owing to rising demand for animal proteins across the globe, and growing demand in the companion animals segment. Growing livestock population, increasing incidences of disease outbreaks and increase in the companion animal ownership are some of the factors driving the growth of this market to a certain extent. Besides the structural market drivers, there are strong geographic drivers for the growth of the animal antimicrobials and antibiotics market. The emerging markets are becoming increasingly attractive. The Asian and Latin American region form one of the most promising animal antimicrobials and antibiotics markets in the world. Developing countries such as China and India have a relatively high CAGR rate and are expected to witness significant market growth in the forecast period. The growth in these regions is mainly attributed to the rise in demand for animal protein products, along with an increase in the trend of companion animal ownership in these regions.
To order this report:
Animal Antimicrobials and Antibiotics Market by Products (Tetracyclines, Penicillins, Sulfonamides, Aminoglycosides), Animals (Dog, Poultry, Swine), Mode Of Delivery (Premixes, Oral Powders and Solutions, Injections) - Global Forecasts to 2018
Contact: Shauna
800.298.5699
customerservice(at)marketresearch(dot)com
MarketsandMarkets
The MarketsandMarkets edge: Worldwide, market research reports are primarily sold for numbers, market segmentation and competitive landscape, within the business leaders.
MarketResearch.com
MarketResearch.com is the leading provider of global market intelligence products and services. With research reports from more than 720 top consulting and advisory firms, MarketResearch.com offers instant online access to the world's most extensive database of expert insights on global industries, companies, products, and trends. Moreover, MarketResearch.com's Research Specialists have in-depth knowledge of the publishers and the various types of reports in their respective industries and are ready to provide research assistance.
Follow us on Facebook http://www.facebook.com/marketresearchdotcom.
Follow us on Twitter http://www.twitter.com/marketresearch_.
Animal Antimicrobials and Antibiotics Market by Products (Tetracyclines, Penicillins, Sulfonamides, Aminoglycosides), Animals (Dog, Poultry, Swine), Mode Of Delivery (Premixes, Oral Powders and Solutions, Injections) - Global Forecasts to 2018 - Table of Contents:
1 Introduction
2 Executive Summary
3 Premium Insights
4 Market Overview
5 Veterinary Antimicrobials And Antibiotics Market, By Product
6 Veterinary Antimicrobials And Antibiotics Market, By Mode Of Delivery
7 Veterinary Antimicrobials And Antibiotics Market, By Type Of Animal
8 Geographic Analysis
9 Competitive Landscape
9.1 Introduction
9.2 Mergers And Acquisitions
9.3 New Product Launches
9.4 Agreements, Collaborations, And Partnerships
9.5 Expansions
9.6 Others
10 Company Profiles (Business Overview, Products, Financials, Growth Strategy, Recent Developments, Swot Analysis, & Mnm View)