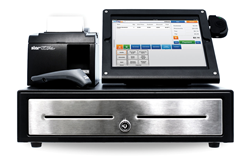 It's easy to setup, easy to manage and best of all it's a free service for new and existing customers.
Carrollton, Texas (PRWEB) June 02, 2014
Certified Payment Processing (CPP) announced the release of a new Loyalty and Rewards program for its 1st Pay POS iPad® based point-of-sale system. The new program gives merchants the ability to engage their existing customer base by offering incentives or rewards for their customers continued patronage.
"We believe that the best customers are the ones you already have, so we developed this new feature to help our merchants build better relationships with their existing customers while also attracting new ones," says Tony Norrie, President of Sales for CPP. "It's easy to setup, easy to manage and best of all it's a free service for new and existing customers. It's a big step for the 1st Pay POS as we continue to expand its already impressive list of capabilities."
Since its launch in late 2013, the 1st Pay POS has received a series of feature enhancements including an employee time clock, a robust inventory management system and a gift card program. The Loyalty and Rewards feature stands to have an enormous impact on the way merchants interact with their customers. Business owners can set up their program to track customer activity in terms of number of visits or by purchases made, allowing customers to accumulate points to be used at a later date. When a loyalty account is created, the customer can link credit cards, debit cards or gift cards to their account. Whenever one of these linked cards is used for a transaction at the merchant's business, 1st Pay POS will automatically identify the customer as a loyalty or rewards customer and track the appropriate activity. Customers are then able to track their usage, manage their linked cards and provide additional optional information for the merchant via a website at http://www.my1strewards.com. This optional information can be birthdays or anniversaries that the merchant can use to offer additional savings or free items on these dates.
"The additional marketing opportunities that we're presenting to our merchants through these product enhancements have a chance to be real game changers for them. At no additional cost, they're getting the tools to reach out to their existing customers and keep them engaged like never before," Norrie added. "Using the Apple iPad® as a platform for the 1st Pay POS lets us be in almost continual development because it's so easier launch new features through the app upgrade process. You couldn't do that with traditional POS systems."
Existing customers will automatically gain access to the new Loyalty and Rewards feature when they upgrade the app by visiting the "App Store" on their 1st Pay POS. The new app version is 2.2.0.