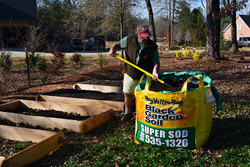 All BigYellowBag orders placed during the Garden Jubilee festival will be given a $25 discount.
Asheville, NC (PRWEB) May 19, 2014
Super-Sod announces their participation as a vendor in the 21st Annual Garden Jubilee Festival to be held in downtown Hendersonville, NC. This will be Super-Sod's 3rd year as a vendor at the Festival and the staff is excited to return. Dates of the Festival are May 24th & 25th.
Super-Sod will be showcasing their Soil3 certified organic humus compost, which is an OMRI Listed compost, as well as their Doc's Raised Garden Kits.
Soil3 organic compost is available in 30 lb. cubic foot bags or cubic yard BigYellowBags. Soil3 was developed in tandem with the Doc's Raised Garden Kits and together they are the most efficient way to garden - both water and fertilizer are conserved and previously ungardenable land is reclaimed.
Super-Sod has developed two Doc's Raised Garden Kit packages:
1) $200 Kit: 1 Doc's Kit with enough Soil3 organic compost to fill it
2) $300 Kit: 2 Doc's Kits with enough Soil3 organic compost to fill them
Stop by Super-Sod's booth at the festival to see these beautiful raised beds in person and to learn just how easy they are to put together with mortise and tenon joints that require no tools. They will have 30lb bags of Soil3 available for purchase on site at the festival and Doc's Kits and BigYellowBags will be available for scheduled delivery. All BigYellowBag orders placed during the festival will be given a $25 discount. Super-Sod staff will also be on hand to answer any questions you may have about lawn care or their Elite Tall Fescue sod, currently available for purchase at their local farm.
Super-Sod is a family-run business that employs experts in turf and horticulture. One of their most popular products has been their Soil3 organic compost, delivered in a cubic yard BigYellowBag, which they make partially from composted grass clippings from their sod production. Super-Sod continues to develop new garden products, foster gardening and landscaping, and always seeks to improve their farming practices, technology, environmental stewardship, and employee knowledge.