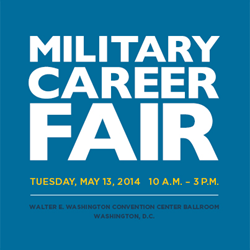 Alexandria, VA (PRWEB) May 13, 2014
The Military Officers Association of America (MOAA), the nation's largest and most influential association of military officers, is hosting the largest D.C. military officer career fair on Tuesday, May 13, 2014. Job seekers have the opportunity to meet local, national and international employers including Lockheed Martin, Amazon, Bank of America, Marriott, National Security Agency, Peace Corps, National Science Foundation, Department of Veteran Affairs and many more. The event is open to and free for all job seekers who are military servicemembers and government employees – all ranks, active duty, retired, former servicemembers, National Guard/Reserve servicemembers and their spouses.
Rosye Cloud, Senior Advisor for Veteran Employment, U.S. Department of Veterans Affairs will join MOAA President and CEO to discuss some of her priorities for her new role supporting veterans in the Office of Economic Opportunity at Veterans Benefits Administration. She will also have a chance to connect with some of the 400 to 500 veteran job seekers and military spouses meeting with recruiters from up to 60 national companies and federal agencies.
Also attending is Keith Kelly, Assistant Secretary Veterans' Employment and Training Service (VETS), U.S. Department of Labor.
What: Military Officers Association of America Career Fair
Where: Walter E. Washington Convention Center (Ballroom)
801 Mount Vernon Pl. NW
Washington, D.C. 20001
When: Tuesday, May 13, 2014, 9 a.m. – 3 p.m.
The conference will feature several career-planning seminars to help military personnel tackle the challenge of transitioning to work life after the military. Seminar topics include:

How to Work a Career Fair: This 30-minute seminar begins before the official start of the career fair and offers quick tips on how to stand out among the crowd.
LinkedIn Best Practices: LinkedIn is revolutionizing the process of networking, connecting with recruiters and preparing for job interviews. Moreover, it offers a public resume to showcase your experience, passion, skills and education to potential employers, clients and business partners. The workshop will address strengthening your public profile and maximizing the use of key words, plus recommendations for job search, people search and company search strategies using LinkedIn.
Be Your Own Boss! Exploring Entrepreneurship Panel: A panel of successful veteran business owners and resource specialists will share their experience with entrepreneurship in a 90-minute discussion (RSVPs are required; RSVP to AmandaB(at)moaa(dot)org).
Federal Job Application Preparation: This 90-minute seminar will help interested military members learn how to apply for a federal job and market themselves for government sector employment.
The Americans with Disabilities Act: What Veterans Need to Know About Disability and Civilian Employment: The ADA is a complex federal law with no analog in the military work environment. Many veterans enter the civilian job search unaware of the ADA's protections from inappropriate medical questions and arbitrary medical qualification standards, and of the ADA's requirement for simple accommodations that can make the difference between success and failure for a veteran transitioning into civilian employment. Learn what you need to know about the ADA to succeed in the civilian work place.
View http://www.moaa.org/careerfair/ for career fair agenda and details
*FAIR IS FREE TO JOB SEEKERS
*NO PRE-REGISTRATION REQUIRED FOR JOB SEEKERS
About MOAA:
Military Officers Association of America (MOAA) is the nation's largest officers association with more than 380,000 members from every branch of service, including active duty, retired, National Guard, Reserve, and former officers and their families and survivors. MOAA is a nonprofit and politically nonpartisan organization and an influential force in promoting a strong national defense. MOAA represents the interests of service members and their families in every stage of their lives and careers, and for those who are not eligible to join MOAA, Voices for America's Troops is a nonprofit MOAA affiliate that supports a strong national defense. For more information, visit http://www.moaa.org or http://www.voicesfortroops.org/.
Members of the news media who wish to be added to our media distribution list for MOAA news releases, please contact requestnews(at)moaa(dot)org. Visit MOAA's Multimedia & Press Room at http://www.moaa.org/media/default.htm.