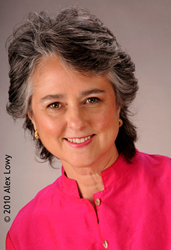 Helping leaders connect the dots between New Paradigm economics and what's on their desks right now.
Media, PA (PRWEB) May 14, 2014
Last month Transition Town Media brought over 30 local organizations in Media, PA together to celebrate the importance of happiness over the course of a weeklong schedule of performances, lectures, and activities. Happiness Week was co-hosted by Dr. Joni Carley in her role with the Heart and Soul Committee of Transition Town Media, an organization in pursuit of building resilient communities by evolving toward a new economic paradigm. The six-day celebration, held April 22nd through the 27th, turned out to be a huge success with over 50 events throughout the week.
Happiness Week was first envisioned by Dr. Joni Carley when her leadership work in and around the United Nations led her to become actively involved with the UN General Assembly initiative toward a "New Economic Paradigm based on Happiness and Wellbeing." The New Paradigm recognizes the importance of strong local initiatives around the world, with supporters striving to create models for building resilient communities within each of their regions. Some of the key players involved in international New Paradigm development celebrated International Day and/or Week of Happiness last year in their locations, including Santa Fe and Seattle, communicating their progress with Dr. Joni and other colleagues.
Dr. Carley had become increasingly involved with Transition Town Media (TTM) because of its track record for promoting strength and vitality within her community. She felt that TTM would make the perfect sponsor for hosting Happiness Week in Pennsylvania, and that the vibrant downtown setting of Media would be an ideal location, especially because it is America's first Fair Trade Town. Amongst the list of participants during the weeklong events were the Media Theater, 2 elementary schools, the library, nature centers, and 20 local businesses and restaurants, including the Healthplex Sports Club, Fair Trade Media, and Media Borough Council, amongst numerous other organizations involved in co-sponsoring activities.
Joni was especially proud of the turnout for Happiness Week's flash mob, which performed Pharrell's hit song, "Happy", on the streets of downtown Media, as well as the Wednesday night dialogue that she and James Quilligan co-facilitated. During the dialogue both of them discussed the research and data that supports societal change toward prioritizing happiness and wellbeing as the means to achieve economic and cultural development. During the conversation, both delivered an inspirational look through the lens of cultural evolution, and provided sound research and reasoning encourages equanimity with the world's common resources for the greater good of mankind.
Since the successful outcome of the happiness celebration, Joni's next endeavor is to promote the Happiness Survey within the community. The survey is an instrument adapted from the Gross National Happiness Index used in Bhutan, a country in Southeast Asia known for its societal focus on happiness, and the success it has experienced in return for those efforts. Dr. Joni is currently working together with Transition Town Media to round up residents and workers from the Media area, encouraging them to take the survey so that they can use the data to evaluate how Media is faring on the 11 key areas covered in the questionnaire.
For more information regarding Dr. Joni Carley, please go to: JoniCarley.com. To find out more about Happiness Week, visit: http://transitiontownmedia.org/category/working-groups/happinessweek If you work, live, or play in the area of Media, PA, you would like to take the Happiness Survey, you can find it at: http://happycounts.org/survey/GNH/JTT2014.
About Joni Carley Consulting:
Dr. Joni Carley is a well-respected expert in values-driven leadership and cultural development, as well as the co-author of "Stepping Stones to Success, Vol 1." As the current state of the world calls for new ways of conducting business, Joni helps leaders and executives balance the demands of that shift. "The data is in," says Dr. Joni. "It turns out that values-driven decision-making benefits society as a whole in addition to the success of a business." Dr. Carley provides executive coaching and consulting to help business professionals achieve leadership excellence, maintain a healthy work/life balance, and increase profitability, productivity, and innovation. Using data-based, values-driven methodologies, Dr. Joni Carley supports workplace evolution toward personal, organizational and societal greatest good.