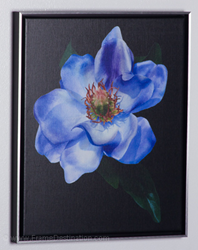 Frame Destination now carries metal canvas floater frames and a metal shadow box frame.
Dallas, TX (PRWEB) May 14, 2014
Frame Destination, an online retailer of ready-made frames, custom frames, and do-it-yourself framing supplies, announced today that it has added several new metal frame styles to its product catalog. In addition to three new standard metal frame profiles, Frame Destination now carries metal canvas floater frames and a metal shadow box frame.
Frame Destination customers can now choose from 12 standard metal moulding profiles, including our new styles: Profiles 24, 33 and 95. Metal frame Profile 24 provides a partially rounded silhouette not normally found in metal frame options and is also available in a wider range of colors, including satin black, satin chocolate, satin slate, and satin German silver finishes. Profile 33 is a small, sleek frame with a slim border that doesn't distract from the framed photo or art piece, while Profile 95 has a full, 1-inch rabbet, which leaves plenty of room for spacers or canvas prints.
Frame Destination further expanded its inventory of metal frames by adding its first metal canvas floater frames. Frame Destination has long carried wood canvas floater frames, but recently widened its catalog by adding metal floater frame options: Profiles 13 and 14 are available in black, silver and brass finishes. Floater frames give the impression that the framed piece is "floating" because they leave space between the artwork and the frame's edges. Metal floater frames work well for stretched canvas pieces, images mounted on foamboard, wood artwork, plaques and other items that are best showcased in the minimal, open design of a floater frame.
Finally, Frame Destination announces the addition of Profile 100, a specialty metal frame moulding known as a "shadow box frame." Profile 100 provides a 1.5-inch spacer that allows items with depth – such as keepsakes, found objects, molded friezes or three-dimensional artwork – to be framed and enclosed with glass or plastic glazing. Most frames are designed for flat items, such as photos or prints, but Profile 100 can frame pieces that are up to 1.5 inches deep.
About Frame Destination Inc.
Frame Destination Inc. is an Internet-based retailer of picture frames and do-it-yourself framing supplies. The company manufactures and ships ready-made and custom picture frames and supplies from its production facility in Dallas, Texas. As an avid photographer, Frame Destination owner and president Mark Rogers became frustrated when searching for nonstandard-size frames for his prints. Rogers founded Frame Destination to provide high-quality, ready-made frames and framing supplies in a broader range of sizes and styles. Frame Destination produces and sells ready-made frames available in 60 standard and nonstandard sizes ranging from 4x6 to 32x38 as well as making frames in custom sizes.
For more information, visit http://www.framedestination.com or call 972-479-1188.