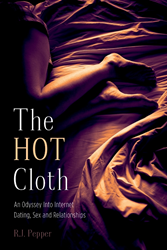 No 50 Shades of Grey" between the covers of this book: more like "150 Shades". A great unfolding of a single man's world in the cyberspace of internet dating, a real eye opener. A MUST read.
Toronto, Ontario (PRWEB) May 20, 2014
The Hot Cloth, An Odyssey Into Internet Dating, Sex and Relationships, published by Friesen Press, is both a relationship guide and sex manual. It aims to shatter the stigma of relationships with real stories of real people, uninhibited sex, and an unbridled passion to find happiness. Pepper wants readers to encounter pieces of themselves in the book's chapters, to be prepared to turn the last page, forever seduced by that "after the loving moment". His new book seeks to excite readers to experience romance again, and to reignite the spark of relationships that are taking those intimate moments for granted.
No "Shades of Grey" lie between the covers of this book. In it you'll find the experiences of life, lust and love in true living color. Tears and broken hearts stain and fracture the pages so don't be surprised if you find fragments of yourself between the lines. The people and the stories are real.
It is as compelling a Biography as it is a free spirited quest for a mate along the alley ways of life. Pepper's debut novel puts many of his adventures to paper and will change your idea of life, lust and relationships forever. An Odyssey as spiritually rampant as it is sexually explicit. A great summer read.
The Hot Cloth is available now for order through all major book retailers and online, including: Barnes and Noble, Amazon, the Friesen Press' bookstore and Chapters/Indigo. The eBook is available for iTunes, Kindle, Kobo, and Google Play.

Once you've read the book and found out what it means to experience "The Hot Cloth" moment, you'll realize every night table or bathroom counter should have one; your own personal "Hot Cloth", reserved there as a seductive reminder to relive that after-the-loving moment long after the book is read and placed on the shelf. A quality embroidered cloth that you can pre-order for just those intimate moments. And you thought there was only one use for that face cloth!! Order it now at the authors' web site http://www.thehotcloth.com.
Richard J. Pepper is a well-travelled, seasoned business development professional and entrepreneur. As an independent representative for casinos, he spends winters in Las Vegas and the Caribbean. Surviving big corporate, the big "C" (cancer), marriage and divorce, he soothes his restless soul seeking change and adventure. He lost his stomach to cancer at 25 and against all odds continues to live his life with an insatiable passion for discovering what it's all about – and as he so frankly puts it "hasn't the stomach for living it any other way". Pepper currently resides in Toronto, Ontario.
" After I started reading R.J.'s book, I found it difficult to put down as I became personally involved in reading the struggles that he had to endure in his twenties, that later changed his life. He tells the story of his life like it is, leaving no stone unturned, revealing his lust and love of life, and many of the women he encountered." -- Amazon Review
Contact Info:
Email: RichardJpepper@gmail.com
Website: http://www.thehotcloth.com