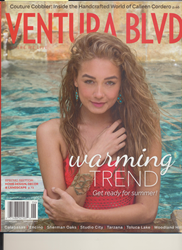 The Verona High Blue Lagoon Bikini looks dazzling on the magazine's model, who lounges poolside for the shot.
Los Angeles, CA (PRWEB) May 13, 2014
Canyon Beachwear is thrilled to announce two of its bathing suit options are found in the May/June 2014 issue of Ventura Blvd magazine. Featured suits are the Verona High Swimwear, found on Page 23 of the magazine, and the Robin Piccone Red Penelope Bandeau One Piece, which graces the cover and contents page. Both are sizzlingly-sexy numbers from two of the industry's top designers, and feature that classic bandeau style.
The Verona High Blue Lagoon Bikini looks dazzling on the magazine's model, who lounges poolside for the shot. The only other blue in the picture is the water, which offsets the bikini perfectly. A high-shimmer number featuring a twisted, ruched top for optimal bustline enhancement, two gold-plated medallions are featured on the sides of the hipster bottom. The padding is removable for wearer convenience. A flattering bikini designed by a brand influenced by Latin American glamour, it's no wonder this option was chosen for the lifestyle magazine.
An example of classic Robin Piccone style, the Red Penelope Bandeau One Piece looks fun and flirty on the magazine's cover model, who is also shown leaping into a pool on the publication's contents page. The bathing suit is complemented by gold and turquoise jewelry, and textured, wavy hair. Featuring the designer's signature crochet design on the torso, the swimsuit includes a built-in shelf bra and adjustable tie straps for extra comfort and support. Additional features include abalone button shell detailing and a fully-lined, full-coverage bottom.
About Canyon Beachwear
Canyon Beachwear opened its first store in 1979 in Santa Monica, California and quickly became a staple of the fashion community thanks to combination of gorgeous swimsuit selection and exceptional customer service. Recognized in publications such as Harper's Bazaar, Vogue, Sports Illustrated, InStyle, Women's Wear Daily, Allure, Shape, Glamour and Los Angeles Magazine, Canyon Beachwear features creations by over 50 designers. In addition to its online presence, Canyon Beachwear has 10 store locations in Hawaii, California, Las Vegas and New York. No matter the body type, Canyon Beachwear has a bathing suit that fits just right. After all, the company motto is "We Suit Every Body"! For more information about Canyon Beachwear, visit canyonbeachwear.com or call 800-863-6681.