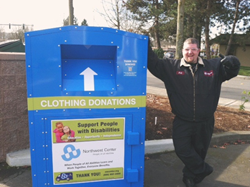 The generosity that Jiffy Lube continues to show to the local community is greatly appreciated and incredibly important for the children, adults and families that Northwest Center serves each year
Seattle, WA (PRWEB) September 09, 2014
Northwest Center is proud to announce a new partnership with Jiffy Lube, the industry leader in vehicle preventive maintenance! As part of the partnership, Jiffy Lube will host The Big Blue Bin™ at 25 convenient locations throughout Puget Sound, collecting clothing (adult as well as children's) to benefit Northwest Center programs.
Heartland Automotive Services, dba Jiffy Lube, is the largest operator of quick lube retail service stores in America. Operating more than 500 Jiffy Lube locations from coast to coast and serving nearly 4 million guests annually with more than 4,000 professional teammates, Heartland strives to provide a great experience to every valued guest on every visit.
"The generosity that Jiffy Lube continues to show to the local community is greatly appreciated and incredibly important for the children, adults and families that Northwest Center serves each year, " said Kevin Fulton with Northwest Center Community.