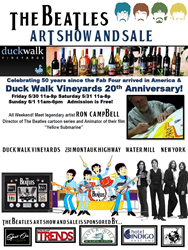 Water Mill, New York (PRWEB) May 13, 2014
Beginning Friday May 30th and running through Sunday June 1st The Beatles Art Show and Sale returns to Duck Walk Vineyards Water Mill location for the first time in seven years. The show featuring artwork, photography and framed collectibles of the Beatles is the first exhibit of its kind that showcases hand signed works by John Lennon, Paul McCartney, George Harrison and Ringo Starr. Fine art pieces, some created by members of the band as well as other world class artists will be on display and available for sale!
The Beatles Art Show and Sale opens to the public on Friday May 30th at 11AM. The show is free for all attendees. The show is returning to help commemorate the 50th Anniversary of the Beatles landing in America as well as the 20th Anniversary of the opening of Duck Walk Vineyards first location in Water Mill, New York located at 231 Montauk Highway.
This extremely popular exhibit of over 75 pieces also includes lithographs, animation art, fine art photographs, album art, and much more. It's the ultimate experience for Beatles fans of all ages.
Legendary artist Ron Campbell, who directed the spectacularly successful 1960's TV cartoon series The Beatles, which remained number one in the ratings for the duration of its four-year run will be on hand throughout the duration of the show. Ron is also known for his animation work in the Beatles Yellow Submarine feature film, as well as many other popular and Emmy Award winning television cartoon programs over a 50 year career. With particular emphasis on The Beatles, he shows his Cartoon Pop Art in galleries internationally and across the USA.
Ron will not only showcase his original Beatles Cartoon paintings created for the show, but will also be creating new Beatles Pop Art paintings live at the exhibit.
While at the show, visitors can participate in wine tasting and enjoy some of Duck Walk's award winning wines, enjoy a live broadcast on WEHM 92.9/96.9 on Friday from 4 till 7pm and meet Glenn Calderone and Lucy Diamond from the syndicated Beatles radio show Beatles Across the Universe on Saturday from 11am till 1pm.
The show is sponsored by Water Mill Building Supplies the Hamptons' one-stop-shop for hardware, lumber, paint, windows/doors, millwork and high-end design hardware, kitchen, bath and flooring. It's also Long Islands' East End's largest True Value hardware store. Also sponsoring the show is Hotel Indigo East End, your starting point for all the action and excitement the East End has in store for you. Nestled quietly in the Riverhead area, here you'll find more than you expected — and everything you were looking for.
About Duck Walk Vineyards
Duck Walk Vineyards award winning wines are quite literally dreams come true. It was the dream of founder Dr. Herodotus "Dan" Damianos that helped create the winemaking industry on Long Island in the early 1980's. In 1994 he and his son Alexander founded Duck Walk Vineyards. The Normandy Chateau-style building in Water Mill, a true Hamptons landmark, became home to what has quickly evolved into one of the most well-known names in Long Island wine.
Duck Walk now has a second location in Southold, both tasting rooms are beautifully designed and accommodate large parties and everyone who would like to taste their award winning wines. Today Duck Walk Vineyards encompasses 140 scenic acres, producing over 35,000 cases of wine a year which have been repeatedly recognized for excellence in national competitions.
About Ron Campbell
Born in 1939 in Seymore, a small town in the Australian state of Victoria, educated at Swinburne Art Institute in Melbourne, Ron Campbell was a force in animation for five decades.
Campbell began his animation career in the late fifties, working on Beetle Bailey, Krazy Kat, and Cool McCool, before directing the The Beatles Cartoon show which debuted in1965. He then moved to the United States and Hanna-Barbera, going on to write and produce cartoons for Sesame Street and animate on the original George of the Jungle and Tom Slick TV shows. His Hollywood studio, Ron Campbell Films, Inc., produced and directed the animation for the Big Blue Marble, which won many awards including a Peabody for Excellence in Broadcasting and an Emmy for Best Children's Show of the Year.
In the late 60's Ron Campbell, working with his friend and colleague Duane Crowther (RIP), animated many scenes in the Beatles Yellow Submarine feature film, including the Sea of Time sequence, and much of the action between the Chief Blue Meanie and his boot-licking sidekick, Max. He animated many scenes involving the multi-named Jeremy Hillary Boob PHD aka the Nowhere Man. In Yellow Submarine Producer Al Brodax's 2004 memoir Up Periscope Yellow, chronicling the making of Yellow Submarine, Brodax accredits Campbell for essentially helping pull together various elements of the movie.
In the early 1980s, he storyboarded Hanna-Barbera's hit series, The Smurfs, including the Emmy-award winning "Smurfolympics" special. Also, during the 70's and 80's, Campbell produced, directed, animated, or storyboarded numerous other hit shows of the era, including the Flintstones, Jetsons, Captain Caveman, and Scooby Doo. Ron was part of the original team the created the Scooby Doo series.
The 1990's took Ron Campbell to Disney TV Animation where he contracted animation direction and storyboarded many popular programs. During that time, he was nominated for an Emmy for a storyboard for Aaahh! Real Monsters, and another for the Rugrats.
Since retiring after a 50 year career, he has been painting subjects always based on the animated cartoons he has helped bring to the screen.