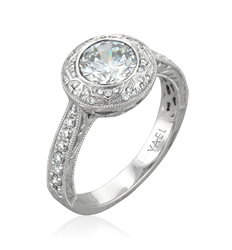 Novelique Collections offers a strikingly new flair to today's brides.
San Francisco, CA (PRWEB) May 14, 2014
Award-winning fine jewelry house Yael Designs debuts the Novelique Collection that features one-of-a-kind, hand-engraved engagement rings inspired by a romantic journey through Turkey.
Designed in collaboration with New York artisanal jewelry designer Christine Huber, the Novelique Collection celebrates the crossroads of modern and ancient, of East and West, of two lives bound to each other. Inspired by the designer's trip through Turkey, which sits at the crossroads of two civilizations, the Novelique Collection features delicately engraved rings with intricate motifs found in architecture, carpets, tile work and mosaics from the Ottoman Empire.
Each one-of-a-kind engagement ring features conflict-free white diamonds set in an 18K recycled gold bands, which is hand-engraved with elements of nature and geometric patterns.
"While exploring Turkey's ancient palaces, I was inspired by everyday objects like ceramics, furniture, even ceilings and walls that were decorated with incredibly ornate motifs," said designer Christine Huber. "I wanted to bring the same kind of luxurious attention to everyday beauty to the Novelique engagement rings that women will wear every day of their lives."
The Novelique Collection combines intricate design details inspired by age-old art with modern comfort and high quality created by experienced bench artisans.
"After years of seeing halo and simple modern design flood the market, we wanted to bring a strikingly new flair to the U.S. bridal market," said CEO of Yael Designs Yehouda Saketkhou. "Working with Christine Huber, we were able to combine her unique artisanal aesthetic and a woman's eye with the polished quality our company is known for to create a truly distinctive collection."
The Novelique Collection will debut at JCK Luxury Las Vegas, Booth LUX401 and will be available for the 2014 engagement season. The price for Novelique Collection ranges from $1800 to $7000. The collection is available online at http://www.yaeldesigns.com/collections/novelique and in select stores.
About Yael Designs
Founded in San Francisco in 2001, Yael Designs is an award-winning design house for cutting-edge, elegant and expressive fine jewelry. Yael Designs fashion and bridal jewelry collections have been featured in top fashion and bridal media and worn by celebrities on the red carpet. In its support of sustainability, Yael Designs uses conflict-free diamonds and recycled gold in all its collections and supports social and environmental organizations like Oceana, Junior League of San Francisco, FACE and Schools for Salone. Yael Designs is the Grand Prize winner of 2014 JCK Jewelers' Choice Award and has won numerous JCK and AGTA awards. More information can be found on http://www.yaeldesigns.com.
About Christine Huber
Christine Huber is a Graduate Gemologist and jewelry designer known for her artisanal style and high quality. Huber has done benchwork for Alex Sepkus, jewelry design and gemology with Julius Cohen Jeweler and designed elaborate collections for Etienne Aigner. Inspired by art, ceramics and architecture, Huber creates pieces that are beautiful, meaningful and fun to wear. She currently lives and works in New York City, designing heirloom quality jewelry.