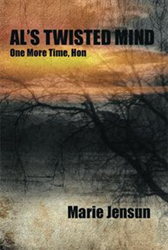 There was no other man that I wanted, but Al couldn't seem to want me to have him only.
Camas, WA (PRWEB) May 14, 2014
"Just one more time" is all Al needed to say to keep Marie from leaving him.
Al's sexual paraphilia and his possessive nature forces Marie into situations that go against her moral judgment. His abusive behavior and his manipulative words push Marie into the arms of another man. In "Al's Twisted Mind," Marie Jensun provides a detailed description based off of her own relationships with forceful and possessive men along with her sexually abusive husband.
Al's sexual desires stem from a trauma during his youth that left him unaware of how to express his desires in a healthy manner. Suffering from paraphilia is a serious disorder, and Jensun hopes to encourage counseling or other treatments.
With the fear of breaking her vows, Marie stays with Al for 24 years. Jensun wrote this book to teach others the need to leave relationships that conflict with personal values and morals.
With active anti-rape campaigns across America, Jensun's story provides an insight into warning signs of abusive relationships and emphasizes finding relationships that are compatible and respecting.
"There was no other man that I wanted, but Al couldn't seem to want me to have him only."
For more information, visit mariejensun.com.
"Al's Twisted Mind"
By Marie Jensun
ISBN: 978-1-4931-0498-7
Available in softcover
Available on Amazon, Barnes & Noble and Xlibris.
About the author
"Al's Twisted Mind" is based on Marie Jensun's personal experiences. She has also interviewed others with similar experiences. Jensun is currently retired and spends most of her time writing.