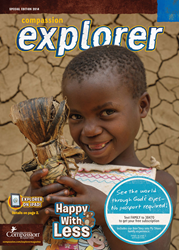 Families can subscribe to the free magazine by texting FAMILY to 38470.
Colorado Springs, CO (PRWEB) May 13, 2014
On May 15, 2014, Compassion International joins the U.N. General Assembly in observance of the International Day of Families. The International Day of Families is observed on May 15 every year and resolves to honor the importance of families in the international community.
"Families hold societies together, and intergenerational relationships extend this legacy over time," said U.N. Secretary-General, Ban Ki-moon. "This year's International Day of Families is an occasion to celebrate connections among all members of the constellations that makes up a family. It is also an opportunity to reflect on how they are affected by social and economic trends—and what we can do to strengthen families in response."
"As an international nonprofit focused on child development, Compassion International understands the value of families and the effect of social and economic barriers to the stability of families and children across the globe," said Mark Hanlon, Compassion International senior vice president of global marketing and engagement. "We are dedicated to serving families here in the U.S., by providing resources that strengthen family dynamics, and families across the globe, through our child sponsorship program and family gift options."
Compassion International offers families Explorer Magazine, a free children's magazine that provides parents with a fun and creative way to educate children about the issues that children and families living in poverty face each day.
Families can subscribe to the free magazine by texting FAMILY to 38470.
In addition, Compassion International is currently developing a free resource for families to offer practical acts of service that family members can engage in together.
Research such as that done by the Search Institute and Baylor University Dean Diana Garland has shown that families grow stronger by serving together. "But often parents don't know where to start," said Naomi Cramer Overton, director of advocacy for Compassion USA. "In order to love our neighbor, we first have to know our neighbor. So far, around 30,000 US families are taking a first step, by receiving this magazine to learn about real children from Africa, Asia and Latin America and enjoy their stories, games, crafts and recipes and more."
About Compassion:
Compassion International is the world's leading authority in holistic child development through sponsorship. Compassion revolutionized the fight against global poverty by working exclusively with the Church to develop children out of poverty to become responsible, fulfilled Christian adults.
It is the only child sponsorship program to be validated through independent, empirical research.
Compassion partners with more than 6,200 Christian churches in 26 countries to release over 1.4 million babies, children and students from poverty in Jesus' name. Compassion has been awarded the highest rating for financial stewardship and transparency for 12 consecutive years by Charity Navigator, America's largest charity evaluator. For more information on the ministry, visit compassion.com or follow them on twitter at @compassion.