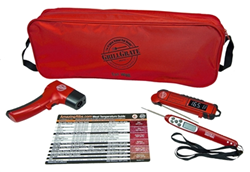 Grilling without a thermometer is like driving without headlights, you are grilling in the dark.
Cartersville, GA (PRWEB) May 13, 2014
GrillGrate LLC today released a special Championship Steak Grilling Set just in time for Father's Day.
The Championship Steak Grilling Set includes 2 thermometer options, a laser thermometer to measure GrillGrate temperatures and the award-winning Amazingribs.com Meat Temperature Magnet to know the proper internal temps of meat, poultry, and other grilled fare.
"These tools take the guesswork out of grilling the perfect steak," said Brad Barrett, President GrillGrate LLC. "Grilling the perfect steak is all about temperature, not time. Grilling without a thermometer is like driving without headlights; you are grilling in the dark."
In recent years, grilling steaks has become a competitive sport. Steak competitions are paying sizeable sums for that perfect steak. This weekend marks the 25th anniversary of The World Championship Steak Cookoff® held every year in Magnolia, Arkansas on the 3rd Saturday in May. More than 80 teams will be competing for $4000, first place, with money paid to 5 places. This year, all previous winners have been invited back to compete in a Champion of Champions contest that will run concurrently with the 2014 contest.
With The Championship Steak Grilling Set and tips from the pros, dads can become championship grillers in their own right this Father's Day.
Barrett offers these pro tips to grilling the perfect steak:
1. Know the GrillGrate temperature. 600-700F at the GrillGrate is where many competition teams grill their steaks.
2. Know the internal temperature of the steak. Using a digital quick read thermometer is a must.
3. Know the proper internal temperature to cook to the perfect taste.
No more poking, guesswork or cutting to see if the steaks are done. Dad will know exactly when to bring the steaks to the table.
GrillGrates are a patented raised rail design that has a bottom with holes in it to drain fats and grease and allow smoky flavor to waft through to the food. Interlocking panels either sit on top of the existing surface or replace it altogether. The bottom blocks flare-ups while the valleys keep juices sizzling and smoking just below the food.
About GrillGrate
GrillGrate LLC is based in Cartersville, GA. GrillGrates are manufactured in various lengths and shapes for all popular grills. GrillGrates improve the cooking performance of any grill, including gas grills, charcoal grills, kamado and pellet grills. GrillGrates are proudly made in the USA. The GrateTool is made in China. For more information please visit http://www.grillgrate.com.