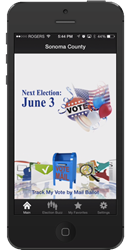 Our mobile applications is part of the Registrar of Voters Going Green Initiative and will provide timely information to voters on the go. - Bill Rousseau
Santa Rosa, California (PRWEB) May 13, 2014
On Tuesday, the Sonoma County Elections Department officially released their iPhone and Android mobile applications for voter engagement. The apps provide citizens with a way to check their registration status, and even register to vote from their mobile device if necessary. The apps also allow citizens to favorite critical election dates, find their polling place and view their Sample Ballot/Voter Information Pamphlet. Additional features include voter applications for requesting and tracking vote by mail ballots, campaign finance disclosures and district information.
The apps also provide the ability for the county to send push notifications to app users to alert them on election information changes or to highlight critical election events, including registration deadlines, polling place changes and Get Out The Vote (GOTV) communications.
"Our mobile applications is part of the Registrar of Voters Going Green Initiative and will provide timely information to voters on the go," said Bill Rousseau, County Clerk and Registrar of Voters for Sonoma County. "With these apps, we anticipate that over time we will be able to reduce the amount of information we have to print and mail to citizens, while providing them with a way to access election information on an anytime, anywhere basis."
Purple Forge, a leading provider of election and other citizen engagement mobile applications to cities, counties and governments in the US and Canada, provides the mobile application services for Sonoma County. Purple Forge has deployed mobile applications to a number of cities and governments, including Long Beach, the US House of Representatives, Edmonton, Calgary and the Government of Canada.
"Sonoma County has shown tremendous vision in launching mobile apps to engage its voters on the devices they use most frequently," stated John Craig, VP Sales and Marketing of Purple Forge. "Over time, Sonoma County will be able to reap the benefits of providing the rapid access of information to voters, reveal cost savings by gradually helping to reduce the amount of printed and mailed material, and alert citizens to election changes and important dates."
About Purple Forge
Purple Forge (http://www.purpleforge.com) sells subscription based services to organizations looking to engage their stakeholders using the latest mobile application technology and leveraging community engagement and social networking best practices. Purple Forge is an award-winning firm led by seasoned mobile communications and Internet technology veterans. Our mobile applications allow organizations to broadcast, share, and receive feedback from their target audience real-time, allowing them to foster long-term, engaged relationships.
Contact: John Craig, john.craig(at)purpleforge(dot)com
About Sonoma County, The Registrar of Voters Office
The Registrar of Voters Office is a division of the County Clerk-Recorder-Assessor's Department, under the direction of an elected County Clerk. The Registrar of Voters Office performs a range of election-related duties, in addition to other public services that increase citizen participation and education.
Contact: Gloria Colter gloria.colter(at)sonoma-county.org