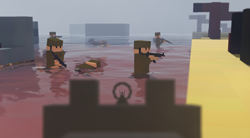 (PRWEB) May 17, 2014
OpenSpades 0.0.11 is proud to announce that it now supports Mac OS X. This update also brings a variety of tweaks and improvements to both gameplay and visual effects. The complete change log can be viewed online at http://www.buildandshoot.com/viewtopic.php?f=2&t=10739&p=106627#openspades.
"We are happy to be Mac compatible. OS X is an under-served market with limited options for free and enjoyable first person shooters." - izzy, co-founder of Build and Shoot
OpenSpades is a free online voxel shooter developed by the community at BuildAndShoot.com. It runs on Mac, Linux, and Windows. OpenSpades, coined "Minecraft with guns" by its loyal players, is a first-person, PC shooter game that lets players dynamically change their surroundings by placing and removing blocks in the midst of battle. The game is extremely customizable; users have complete control over their experience. They can replace any game asset with their own creation, or with other user-created assets.
More information about OpenSpades and its customization can be found at http://buildandshoot.com/openspades.
Buld Then Snip LLC operates online gaming communities, most notably Build and Shoot http://www.buildandshoot.com, the home of OpenSpades, which sees over 10,000 unique visitors per day. BuildAndShoot.com is a player-run community for the free and highly addictive game known as Ace of Spades. Login to play the game, interact with others, and customize your experience!