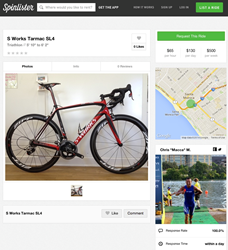 Santa Monica, CA (PRWEB) May 13, 2014
Spinlister, the peer-to-peer global bike share, announced today that two-time Ironman World Champion Chris McCormack, also known as Macca, has joined Spinlister as a professional athlete ambassador. McCormack not only holds the 2007 and 2010 Ironman World Champion titles but is also the winner of the 1997 International Triathlon Union World Cup Series, the 1997 Triathlon World Championships, the 2012 Long Distance World Championships, five-time International Triathlete of the Year, Four-time Competitor of the Year, ESPN World's Fittest Man, and won more than 200+ races around the world since 2003. Spinlister users now have the opportunity to rent Macca's bikes for training, racing, or the enjoyment of riding a personal bike from one of the most winning Ironman athletes of all-time
Macca is the newest professional athlete to join the Spinlister team. "Anyone who travels knows the nightmare of traveling with your bike. With Spinlister I can take that hassle away by grabbing a bike on the run. Whether you're an athlete who has to hit set training plans, or just someone who likes to explore a new city by bike, Spinlister now makes it super easy to do that," says McCormack.
Spinlister is connecting like-minded individuals worldwide by adding a personal connection to renting a bike. "I have found the best convenience is the fact that a local rider will point you in the right direction for must do rides. It is an awesome service and I am stoked to be part of it" says McCormack.
Spinlister is encouraging triathletes to list their bikes at http://www.spinlister.com/list to make money and to help fellow triathletes in need of a bike. All bikes are insured up to $5,000 against theft or damage. If you would like to rent the bike of an Ironman Champion or find bikes to rent in the city of an upcoming race, please visit http://www.spinlister.com.
About Spinlister:
Launched on April 1st 2012, Spinlister is a peer-to-peer global bike share that allows users to rent and list bicycles, skis, and snowboards from each other in over 50 countries worldwide. With their seamless web, iOS and android apps, built-in security features, and a database of user reviews, Spinlister has won the trust of communities of cyclists, skiers, and snowboarders around the globe.