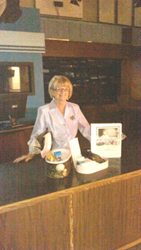 These businesses benefitted by hosting workshops--it opened up another avenue for their success by increasing their exposure ...
American Falls, ID (PRWEB) May 13, 2014
A few months ago, Dee Allen, owner of The Bridal Box, bridal accessories online, was approached by Jodi Bates, owner of New Wave Marketing, LLC, advertising agent for The Bridal Box, with the idea of making a guest appearance on the More Show, a daily half-hour program featured through local news station KPVI. Jodi was aware that Dee's company was the sole provider in southeastern Idaho of wedding planning workshops, and she believed that Dee could capture the attention of the wedding industry with her witty personality and broad knowledge of the wedding planning process.
Dee liked the idea of reaching a wider audience, and after she made her first appearance on the More Show in November 2013, it became apparent to the KPVI creative team that there was an enthusiasm for wedding content and scheduled The Bridal Box for six additional appearances.
"This was an important step forward in the growth of the company," says owner, Dee Allen.
KPVI News 6, currently owned by Intermountain West Communications in Idaho, is an NBC affiliate that was signed on by NBC in April 1974. KPVI and its translators cover the majority of eastern Idaho, including its larger cities of Pocatello, Idaho Falls, Blackfoot and Rexburg. The creative team at the station had been considering an alternative to its hard news programming with a show emphasizing lifestyle, entertainment and technology topics. The now popular More Show was launched on July 23, 2012 and is currently hosted by Libby Wood and Matt Davenport.
According to the State of Idaho Vital Statistics, there were a staggering 13,700 total marriages performed in 2011--the latest published record--with Idaho Falls and the surrounding communities capturing 20% of this market. KPVI immediately recognized the value of the expertise that The Bridal Box could bring to their viewers in the community--it was a natural fit.
During the course of the six shows that aired in the following three months, Dee highlighted a few of the main wedding planning issues with emphasis on important topics, such as setting and tracking budgets, assigning duties and responsibilities, planning a winter wedding, organizing a seating chart, interviewing wedding service providers, compatibility, and last but not least, prioritizing and organizing the whole event to maintain some sanity, and dealing with cranky family members (present and future).
The Bridal Box has been in business since 2010, mainly providing brides with a one-of-a-kind vintage train case that holds all their wedding day emergency items. Dee has since expanded the product line to include other wedding day accessories and gift items, but in 2012, after realizing that engaged couples didn't have access to good, hands-on wedding planning, she began conducting wedding planning workshops with the goal of getting the participants from clueless to confident in one 2-hour workshop.
"The workshops are offered on a regular basis at the Rosewood Reception Center, a beautiful Victorian-designed reception facility (complete with a gazebo) in Pocatello," says Dee, "and they are currently the only workshops offered in southeastern Idaho." Dee has presented additional workshops at The Loft Reception Center in Rigby, Idaho, and at Studio 145 Salon and Spa in Pocatello.
"These businesses benefitted by hosting workshops--it opened up another avenue for their success by increasing their exposure," says Dee, "and I've loved being a part of their growth."
The Bridal Box has definitely made its mark in the community and continues to live up to its original mission of helping engaged couples understand the task and importance of being prepared on their wedding day. Dee wants to eventually present wedding workshops in Boise, Salt Lake City, Seattle and Reno, and plans are currently being made to host a workshop in Las Vegas.
The Bridal Box owner, Dee Allen, is available to speak with any wedding service provider who wishes to host a wedding workshop. The Bridal Box offers a variety of wedding items, including the bride's emergency case (Bride's Case), a one-stop-shop runaway bride's case (Bride's Box), wedding favors (Gratitu"teas"), Silver Sixpence and more, and welcomes anyone who wishes to set up a wholesale account. For more information about the company or to contact Dee personally, go to: http://www.thebridalboxonline.com
Dee's motto is: "A great wedding is only a plan away!"