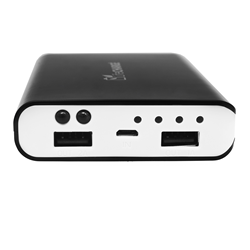 Dallas, TX (PRWEB) May 13, 2014
With family plans becoming the norm these days, every family member, even down to the youngest, tends to have a mobile device. Not surprisingly, all these smartphones and tablets around the house are leading to arguments, especially when one runs out of power and someone else is hogging the charger. Mobile charging expert LifeCHARGE projects that these fights will soon become a thing of the past. The company's JuicyPack power bank with 10,400mAh of power and dual USB ports allows two mobile devices to charge simultaneously.
According to a February 2014 NY Post (http://nypost.com/2014/02/10/report-reveals-average-us-family-owns-four-mobile-devices/) report citing Nielson statistics, the average U.S. family owns four mobile devices. Keeping all of those devices charged, however, can be the stuff of legendary family feuds. And nothing starts an argument faster than a loved one 'borrowing' a tablet or smartphone when his or her own is dead.
Committed to making today's high-tech life better by keeping all of the latest mobile computing devices charge, LifeCHARGE puts an end to these disputes before then even begin. The company's JuicyPACK 10400mah Power Bank has two USB ports built in so that two mobile devices can charge at the same time. That means that sharing even the tightest quarters, like on a family road trip, no longer results in smartphone and tablet wars.
For more information about how a LifeCHARGE JuicyPack 10,400mAh power bank can put a stop to mobile device feuds among family members, contact OnTrion's Palki Kochar. To learn more about the JuicyPACK power bank, visit the manufacturer on the web at http://www.mylifecharge.com.
CONTACT INFORMATION:
13650, TI Blvd., Suite #309
Dallas, TX 75243
(877)676-0877