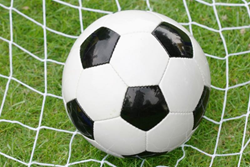 Thick Green Grass is Safer to Play On and can Use Less Water
Houston, Texas (PRWEB) May 13, 2014
Turf Feeding Systems (TFS) a leader in fertilizer injection into irrigation, is partnering with Watertronics, the industry leader in pumping systems and rain water harvesting. The companies will be combing forces on two projects to prove and document the savings and benefits of their products on reducing water use.
The current drought continues to increase across America. The United States Drought Monitor shows California facing the worst drought conditions in history.
Two industry leaders have come to work together to prove the efficiency and economics of their products. The two technologies can reduce irrigation water use, which could be crucial during America's time of drought.
Michael Chaplinsky, the founder and president of TFS has been speaking to the industry on the importance of sustainability and fertilizer injection into irrigation (fertigation) to reduce water use and improve quality of soil. Rick Heidvogel, a VP at Watertronics, contacted Mr. Chaplinsky and said, "I am interested to prove and implement the savings and benefits into our pump station. Let's start some projects together to document it."
TFS and Watertronics are starting two case study projects this week with a sports field complex in Wisconsin and a public park in Denver, Colorado. Michael quoted, "these separate applications and regions will demonstrate the benefits and values of sustainability with fertigation, using probiotic organic nutrients with a mineral fertilizer program."
The case study in Wisconsin will be at the Oconomowoc High School Sports Complex on a renovated high school soccer field near their factory. The field will get a new irrigation system designed specifically for high use tournament play. The irrigation design will include special goal mouth zones to irrigate and fertigate damaged goal mouths only at higher rates for fast recovery.
The other case study will be in Denver metro at Writers Vista Park with South Suburban Parks and Recreation on a 7 acre park. The park will receive a Watertronics booster station in two weeks with a Turf Feeding Systems fertigation system attached.
Michael states, "parks are great values to any city and are used by all ages and classes." He adds that, "plants are carbon filters and take in CO2 to clean the air and produce Oxygen to give us life."
Michael concludes that the goal for two projects is to produce data to document the savings and benefits based on previous years of costs, water use, and quality. These case studies will be used to confirm and validate how sustainable practices will improve plant and soil health to increase quality while reducing water use and management costs.
Together, Mr. Chaplinsky and Mr. Heidvogel will publish and present these studies at several conferences next year to help reduce water use and produce high quality sports fields and landscapes.
Bio:
Michael Chaplinsky – President / Founder Turf Feeding Systems
Turf Feeding Systems - Houston Texas – USA - The world leader in packaged fertigation systems (fertilizer injection into irrigation) for golf, sports fields, landscapes, resorts and agriculture.
Mr. Chaplinsky has worked for over 25 years implementing water efficiency and sustainability into all types of irrigated projects around the world. He speaks at many conferences and lectures on sustainable soils, landscapes, golf and agriculture.
Mr. Chaplinsky has worked with the top scientists and engineers on project that include construction, revegitation, bio-remdiation and beach erosion. He brings technologies and practices together to promote plant and soil health, and create the values and benefits of sustainability.