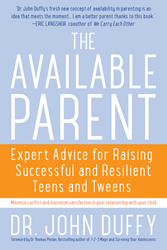 Supporting her interest in celebrities is a matter of balance.
(PRWEB) May 13, 2014
In a recent article from Parents.com, Dr. John Duffy offered helpful tips and advice about "What to Do When Kids Love Celebrities." Dr. Duffy begins by stating it may not necessarily be an unhealthy phase. "Don't assume that your child likes her idol because of looks, money, or fame. 'Ask her about what she admires in the star,' says John Duffy."
He does go on to caution against overindulging a habit: "It's possible to be accepting of your child's admiration without allowing it to go overboard. 'Supporting her interest in celebrities is a matter of balance,' says Dr. Duffy. It's okay to give her an occasional celebrity-related gift or let her use her own money when she wants posters, T-shirts, or perhaps even concert tickets, but don't indulge every request. Not only will trying to do so cost you a lot of money, it could help send your child's fondness for the star into the unhealthy category."
The Available Parent
Expert Advice for Raising Successful and Resilient Teens and Tweens
By John Duffy
Highly recommended by everyone from NPR to Fox News and the Today show, Dr. John Duffy's The Available Parent will help parents negotiate the ever-changing landscape of the teenage years. Imagine healthy conversations replacing angry outbursts, slammed doors, obsessive texting or sullen silence. At a time when many helicopter parents micromanage and under-appreciate their children, Dr. Duffy's step-by-step guide is an innovative approach to taking care of teens and tweens. Watch Dr. Duffy on Steve Harvey, where he appears as the national parenting expert for the show.