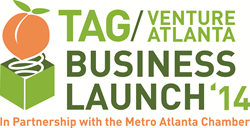 Three other TAG Business Launch finalists will split the more than $200,000 in remaining pro bono services
Atlanta, Georgia (PRWEB) May 12, 2014
The Technology Association of Georgia, Venture Atlanta, and the Metro Atlanta Chamber today announced that Monsieur, the developers of an artificially intelligent robotic bartender, is the winner of the 9th annual Business Launch Competition.
The company bested three other startups in the final round of a bracket competition held May 5th at the G. Wayne Clough Undergraduate Learning Commons on Georgia Tech's Campus.
"We congratulate Monsieur and all of the companies who participated in this year's extremely strong competition," stated TAG President/CEO Tino Mantella. "We look forward to the growth and continued success of these companies and we thank all of our sponsors and volunteers who have made the TAG Business Launch Competition possible."
Monsieur's technology can be used at home or in commercial environments such as stadiums, arenas, restaurants and bars. As a result of the win, Monsieur will now receive $50,000, a spot in Venture Atlanta and more than $100,000 in donated services from the Atlanta business community to help them grow.
"The Business Launch is an important competition for Georgia's technology community", said Venture Atlanta's Executive Director Allyson Eman. "Venture Atlanta was proud to be a larger supporter of the event this year and is pleased to have an excellent company like Monsieur on stage this October. We look forward to another banner year in 2015".
Three other TAG Business Launch finalists will split the more than $200,000 in remaining pro bono services, including legal counsel, professional consulting, marketing, software and even real estate space. These finalists include:

Cooleaf- mobile employee engagement platform
Keyp-an endpoint-to-endpoint encryption solution
Partpic- Visual Search Technology provider
"The TAG Business Launch competition is a great example of the entrepreneurial vibe in Atlanta," said Katie Kirkpatrick, senior vice president of Policy, Innovation and Entrepreneurship at the Metro Atlanta Chamber. "The competition highlights some of the upcoming companies that are making their mark on Atlanta's start-up scene."
Since it was founded in 2006, the TAG Business Launch Competition has become one of largest competitions of its kind in the United States, providing $500,000 in cash and over $1,500,000 in donated services to more than 200 young entrepreneurs.
Applicants are screened by an experienced panel of entrepreneurs and the most promising companies are assigned a mentor for the duration of the competition. Representatives from out-of-state venture capital companies sit on the judge's panel and a multitude of angel and venture capital investors attend the final event.
2014 sponsors for the event include:
CEO Ventures www(dot)ceoventures(dot)com
Imlay Investments
Noble Systems www(dot)noblesys(dot)com
Control Scan www(dot)controlscan(dot)com
Worthscape www(dot)worthscape(dot)com
EmergencyVisions www(dot)emergencyvisions(dot)com
Noro-Mosley Partners www(dot)noromoseley(dot)com
Pindrop Security www(dot)pindropsecurity(dot)com
a.i. partners aipsearch(dot)com
For more information visit: http://www.tagonline.org/events/businesslaunch .
About The Technology Association of Georgia (TAG)
TAG is the leading technology industry association in the state, serving more than 23,000 members through regional chapters in Metro Atlanta, Athens, Augusta, Columbus, Macon/Middle Georgia, and Savannah. TAG's mission is to educate, promote, and unite Georgia's technology community to foster an innovative and connected marketplace that stimulates and enhances a tech-based economy.
The association provides networking and educational programs; celebrates Georgia's technology leaders and companies; and advocates for legislative action that enhances the state's economic climate for technology. TAG hosts over 200 events each year and serves as an umbrella organization for 34 professional societies. Additionally, the TAG Education Collaborative (TAG's charitable arm) focuses on helping science, technology, engineering and math (STEM) education initiatives thrive.
For more information visit the TAG website at www(dot)tagonline(dot)org or TAG's community website at www(dot)TAGthink(dot)com. To learn about the TAG-Ed Collaborative visit www(dot)tagedonline(dot)org.