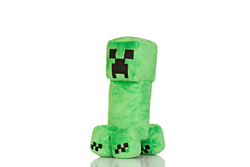 SSSsss. Boom.
San Diego, CA (PRWEB) May 16, 2014
Today, J!NX is launching an all new line of MINECRAFT plush featuring the Skeleton, Zombie, Enderman, and the fan-favorite Creeper. These new additions will join the existing Creeper Plush with Sound; one of J!NX's all-time best selling products. When asked for comment, Creeper said in a statement: "SSSsss. Boom." J!NX is expecting these new plush to be some of the hottest items in geek merchandise in 2014. Creeper seems to agree with them.
J!NX is the Official Store of MINECRAFT and takes that status very seriously. It carries the widest range of officially licensed MINECRAFT products on the Web from tees to hoodies to toys. This new plush launch makes the official MINECRAFT collection at JINX.com the most comprehensive on the planet.
The new plush line is now available for purchase at JINX.com and later this summer at select major US retailers. MSRP is set to $19.99.
About J!NX: J!NX is a lifestyle clothing brand for gamers and geeks. J!NX represents an immersion into all forms of gaming, the interwebz, giant robots, spaceships, gadgets, comic books, dragons, rolling dice, and collecting things. The J!NX office contains an abundance of toys and passionate nerds. It is located in sunny San Diego, CA. For more information, visit http://www.JINX.com.