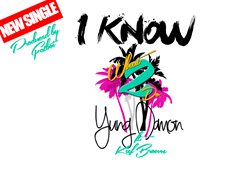 Savannah, GA (PRWEB) May 13, 2014
Coast 2 Coast Mixtapes announce the release of the "I Know What 2 Do" single by Yung Damon! The single track project is currently available for download. The single features an appearance from Kief Brown and is produced by Fatboi.
Yung Damon! is an emcee from Savannah, GA. Though he was sheltered from listening to rap music as a child he was exposed to many of the R&B greats including Patti Labelle, Smokey Robinson, and Brian McKnight. Damon has always had a talent for writing, receiving recognition for his poems and short stories throughout his schooling. This natural talent for wordplay turned out to be very valuable when he started rapping with his cousin back in 2003. Hungry to develop his craft, Yung Damon! began to expose himself to a diverse range of genres and content, exploring new music, literature, and movies to feed his passion. After developing his own unique rhythmic cadence, quick wit, and clever sense of humor; Damon knew the importance of self reliance in this industry teaching himself to engineer his own recording sessions.
Yung Damon!'s hardwork paid off providing him the opportunity to meet with super producer 9th Wonder to discuss collaborating on some tracks for the up and coming rapper. 9th was so taken by Damon's potential that he connected the young rapper with Jay-Z who was in town searching for new talent. This recognition from some of the industry's top tastemakers boosted Damon's confidence pushing him to take his grind to a new level, performing over 30 shows in Atlanta and the surrounding area.
Truly understanding Yung Damon!'s potential Savannah GA rapper Bugga, of Hellaflow Records, took Damon under his wing to groom his image and help him establish the necessary business practices for success. In the middle of working on a collaboration album between Damin and himself Bugga passed away leaving Damon with a mentor. Yung Damon! determined to honor Bugga's legacy charged ahead completing the project in honor of his fallen comrade. Yung Damon! continued to make a name for himself collaborating with some of the South's best talent, recording in Atlanta with the likes of Young Jeezy, Lil' Boosie, Gucci Mane, Boo Rossini, Young Buck, Blood Raw, JW, and more as well as opening up for major artists such as 2 Chainz, Webbie, Gucci Mane, Bun B, Yo Gotti, Juvenile,Travis Porter, Lil' Ru, Mac Bre-Z, Future and Dolla Boy of Playaz Circle.
Yung Damon!'s recent release of the "I Know What 2 Do" single has industry professionals across the South talking. Building anticipation for his first full length release titled, "Exclamation!", Yung Damon! will not let down his hustle until he is a commonly recognized household name in the music industry. Keep an eye out for this next to break artist and keep up with Yung Damon! on his Twitter page at @yungdamon.
About Coast 2 Coast Mixtapes
Coast 2 Coast Mixtapes are the most widely distributed mixtapes in the world, with over 100 million downloads/plays generated by over 200 volumes officially hosted by major artists. Coast 2 Coast has a solid reach in the new music industry with a digital magazine, DJ coalition, industry tips blog, yearly convention, and more. Coast 2 Coast Mixtapes represents a unique opportunity for artists of all urban genres, from major to indie. For more information, visit http://www.coast2coastmixtapes.com.