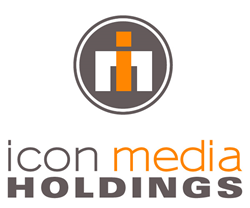 Raleigh, NC (PRWEB) May 13, 2014
Icon Media Holdings, Inc., (OTC: ICNM) announced today that the Company has achieved current information status based on the rigorous requirements set forth by OTC Markets. Updated financials and disclosure statements have also been posted. This means that the Company is fully compliant with all the rules and regulations necessary to attain classification in the current category.
OTC Markets is a financial information and technology services company that operates the leading electronic quotation and trading system in the Over-the-Counter (OTC) securities market. The OTCQX and Pink Sheets marketplaces that they operate constitute, by dollar volume, the third largest U.S. liquidity pool for trading public company shares, after The NASDAQ Stock Market, Inc. and The New York Stock Exchange. Pink Sheets technology platform provides a comprehensive suite of information products and trading services for OTC market participants.
About Icon Media Holdings, Inc;
Icon Media Holdings, Inc. is a diversified global technology company. The Company currently owns and/or operates e-commerce websites and sells on storefronts such as Amazon, Amazon UK and eBay, among others. The Company also offers fulfillment services, consulting, merchant processing and select financial products to other e-commerce businesses. Website: http://www.iconmediaholdings.com.
Contact:
Rob Deakin
Phone: 919.237.5705
info(at)iconmediaholdings(dot)com
Forward-Looking Statements & Disclaimers:
The information in this Press Release includes certain "forward-looking" statements within the meaning of the Safe Harbor provisions of Federal Securities Laws, as that term is defined in section 27a of the United States Securities Act of 1933, as amended, and section 21e of the United States Securities Exchange Act of 1934, as amended. Statements in this document, which are not purely historical, are forward-looking statements and include any statements regarding beliefs, plans, expectations or intentions regarding the future. Investors are cautioned that such statements are based upon assumptions that in the future may prove not to have been accurate and are subject to significant risks and uncertainties, including the future financial performance of the Company. Although the Company believes that the expectations reflected in its forward-looking statements are reasonable, it can give no assurance that such expectations or any of its forward-looking statements will prove to be correct. Readers are cautioned not to place undue reliance on these forward-looking statements that speak only as of the date of this release, and the Company undertakes no obligation to update publicly any forward-looking statements to reflect new information, events, or circumstances after the date of this release except as required by law.