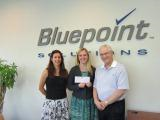 San Diego, CA (PRWEB) May 13, 2014
Bluepoint Solutions, a leader in payment and content management solutions for financial institutions, continues to make generous contributions to Monarch School, a San Diego public K-12 school for children impacted by homelessness.
For the third year in a row a team of 12 Bluepoint employees has participate in a grueling test of physical, mental and emotional endurance known as the SoCal Ragnar Relay with a goal of teaming with local businesses to raise funds for Monarch. The team collectively completed running 195 miles from Huntington Beach to San Diego earlier this month. With an initial fundraising goal of $6,000 in donations, the team doubled this amount and was able to raise a total of $12,000 for the cause.
In addition to the yearly SoCal Ragnar Relay, Bluepoint has also supported the Monarch School for the past 8 years with a combination of employee donations, service hours, hosted holiday events, and company-wide employee fundraisers. In 2013 Bluepoint employees generously donated a total of $9,534 as part of an automatic payroll deduction program. Bluepoint Solutions commits 5% of its net income to Monarch School every year.
"When you see the kids at Monarch School and learn about the situations they deal with on a daily basis you can't help but get involved. Monarch School is so much more than a school to these children," said Anastasia Tilbury, HR Manager. "It is a place where they receive what we as children took for granted such as meals, clothes and healthcare. Mostly it is a place where they can feel comfortable and catch up on their education so the cycle of homelessness won't be repeated."
"All of us at Bluepoint are honored to be working with Monarch School. Our ongoing partnership has helped raise nearly $1 million to build and operate a world-class facility for these great kids," said Hal Tilbury, CEO of Bluepoint Solutions. "I hope that our partnership with Monarch serves as an example of how small businesses can give back to their communities in a meaningful way that will benefit future generations."
About Monarch School
Founded in 1988, Monarch School, located in downtown San Diego, is a public K-12 school exclusively for students who are at-risk and impacted by homelessness. Monarch School represents a unique public-private partnership between the San Diego County Office of Education and the Monarch School Project, a non-profit 501(c)3 organization. Today, more than 175 students between the ages of four and 19 are enrolled. Monarch School's committed team of educators, support staff and volunteers is dedicated to providing homeless and at-risk children with an accredited education while caring for their basic needs. Monarch School will break ground on its new campus in downtown San Diego in fall 2011. For more information, visit http://monarchschools.org or call (619) 685-8242, ext. 227.
About Bluepoint Solutions
Bluepoint Solutions provides end-to-end payment processing and content management solutions to community financial institutions. More than 1,400 credit unions and community banks nationwide have deployed its enterprise technology, including the largest corporate credit unions and credit union service organizations in the country. Learn more at http://www.bluepointsolutions.com.