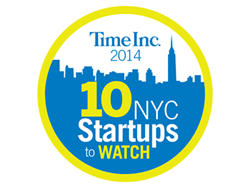 New York, NY (PRWEB) May 13, 2014
Ambitious New York-based ventures across ecommerce, manufacturing, retail and gaming are among headliners of Time Inc's fourth annual "10 Startups to Watch" list, which was unveiled today. Each company was chosen by a team of Time Inc. editors and digital executives for their potential to transform their respective fields of industry.
The "10 Startups to Watch" will be honored at Time Inc.'s annual Internet Week New York celebration scheduled for May 21. The evening is one of the signature events of IWNY and brings together the leading innovators and entrepreneurs driving New York City's digital renaissance with prominent members of the media and technology industries.
"The start-up scene in New York City is one of the most dynamic in the world thanks to the city's role as a capital for industries from finance and fashion to media and marketing," said Colin Bodell, Time Inc. Chief Technology Officer and member of the selection team. "This year's honorees include several exciting ventures that we believe are on the verge of their breakout moment in 2014, and some that have already made major strides."
Time Inc.'s "10 NYC Startups to Watch" in 2014 are (listed alphabetically):

Since 2010, editors and digital executives from Time Inc. have scoured New York's technology scene to discover the ten most promising startups of the past year. The selection team this year included 35 editors from across Time Inc.'s portfolio as well as digital leaders, Colin Bodell (Chief Technology Officer), Callie Schweitzer (TIME's Director of Digital Innovation), and Senior Vice Presidents Scott Havens, Kevin Heery, and George Linardos.
Historically this list has uncovered future tech industry darlings. 2013 honorees that have experienced considerable success over the past year include: Upworthy, which consistently tops 50 million unique monthly visitors; FiftyThree, which launched a print-on-demand product with Moleskine and unveiled a highly-praised iPad stylus; and Hukkster, which recently raised a new round of funding from NPD Group.
Taking place from May 19th to 25th, Internet Week New York is expected to draw more than 45,000 people to 250 events taking place across New York City.
About Time Inc.
Time Inc., a division of Time Warner, is one of the largest branded media companies in the world reaching more than 130 million consumers each month across multiple platforms. With influential brands such as TIME, PEOPLE, SPORTS ILLUSTRATED, InStyle, REAL SIMPLE, Wallpaper, Travel + Leisure and Food & Wine, Time Inc. is home to celebrated events and franchises including the FORTUNE 500, TIME 100, PEOPLE's Sexiest Man Alive, SPORTS ILLUSTRATED's Sportsman of the Year, the Food & Wine Classic in Aspen and the ESSENCE Festival.
# # #
For information:
Patrick Kowalczyk, patrick(at)pkpr(dot)com
Kait Smith, kait(at)pkpr(dot)com
PKPR, 212-627-8098