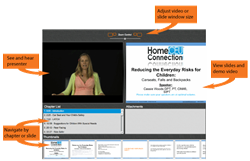 Our customers can literally take their CEUs anywhere they choose.
Plano, TX (PRWEB) May 15, 2014
HomeCEUConnection.com today reaffirmed their commitment to providing the elite continuing education experience for rehabilitation therapist by announcing the successful update of both their web-based and mobile course delivery platforms.
"We are so happy this significant upgrade to our course delivery system is complete. Not only does the new technology provide smoother CEU viewing on laptops and computers, it also gives therapists an even more customizable learning experience," says Brandon Osborn, owner of HomeCEUConnection.com. "Having to install or update software can be a real headache when trying to complete your CEUs. Now that we've eliminated that stress point, completing your continuing education at home just became even easier."
The new platform requires no software installation or updates, so the user can now just click a link and dive right into the course content. The increased reliability and lack of technical issues of this new platform delivers a seamless experience for users, as well as increased control over their continuing education experience.
In conjunction with the web-based course delivery upgrade, all HomeCEUConnection.com video and text online courses are now viewable on the iPad, iPhone or Android mobile devices. Using a new cloud-based solution, the continuing education provider now streams their top of the line CE video courses directly to the users tablet or smartphone. Users are free to take their learning anywhere they go, providing even more control of their educational experience.
"Therapists are busy professionals," explains Brandon. "We recognized early on that their continuing education requirements need to be flexible and convenient. Being able to work on their continuing education on the bus ride to work, or while they're getting dinner ready means less time taken away from patients, a huge plus for both the therapist and their employers."
About HomeCEUConnection.com
HomeCEUConnection.com is a leader in providing elite online continuing education courses for Occupational Therapists, Occupational Therapist Assistants, Speech-Language Pathologists, Physical Therapists, Physical Therapist Assistants, Athletic Trainers, Massage Therapists, and Certified Strength and Conditioning Specialists. We offer convenient, affordable and user-friendly courses that can be found in our growing course catalog.