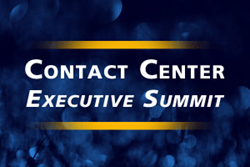 Contact Center Executive Summit definitely exceeded my expectations. The content was relevant and timely and the conversation between peers and industry leaders was truly engaging...
Fort Worth, TX (PRWEB) May 13, 2014
The 2014 Contact Center Executive Summit brings together CCNG members, accomplished leaders from across the industry to share proven strategies and innovative best practices. Please join us for a unique opportunity to benchmark with peers, refine programs, and explore new ideas. The agenda offers 1 ½ days of interactive Discussion Sessions led by contact center executives tackling "What's Next for the Contact Center"? What are the strategies, programs and tools that will enable the contact center to play a leading role in the success of the enterprise moving forward?
Real-world insight and candid contribution from a room of executive participants makes the Executive Summit a uniquely valuable event. Each attendee is part of (and participates in) each Discussion Session. Discussion Leaders review past initiatives and future plans, share insights and lessons learned, and offer benchmarks for comparison. They share their personal experience and draw insight and perspectives from all participants.
Our Discussion Leaders include:
•David Johnson, Senior Director - Member Services, Prime Therapeutics
•Amas Tenumah, Vice President Operations, Teleflora
•Steve Riddell, Chief Sales Officer, Blinds.com
•David Warner, Director Offsite Operations, Sutherland Global Services
•Tim Houlne, Chief Executive Officer, Working Solutions
•Bob Simmonds, VP, Domestic Travel Operations, Disney Destinations
•Eric Newton, Director of Customer Service, Career Builder
•and many other industry leaders to be announced, check the web site for updates!
"The Summit gives contact center leaders a unique opportunity to share insight and explore new ideas with executive peers," says Lon Hendrickson, Executive Director, CCNG Magnet Program. "The facilitated-discussion format promotes candid contribution from all participants."
This year includes several CCNG partners returning to sponsor this event including Aspect Software, OpenSpan and Voice Print International, VPI.
Past attendees and speakers offer some insights to this valuable event:
"The 2013 Contact Center Executive Summit definitely exceeded my expectations. The content was relevant and timely and the conversation between peers and industry leaders was truly engaging. It was a great experience and well worth the investment. I recommend this unique event to any executive who wants to recharge their batteries and share ideas with some of the smartest people in the industry." - Jennifer Richard, Director of Contact Center Operations, McKesson.
"The Executive Summit offers senior leaders in Contact Centers of every vertical an opportunity to have real-life discussions about strategy and challenges we are all facing in today's marketplace. It is imperative to stay on top of, if not ahead, the opportunities for Contact Centers now and in the future - The Executive Summit is the perfect forum for this!" - Eileen J. May, Senior Vice President, Operations, Publicis Touchpoint Solutions, Inc.
"The CCNG Executive Summit is very different from other Professional Conferences in that it is designed to maximize the attendees' time with other Contact Center professionals dealing with similar issues and challenges to your own. The majority of the Executive Summit format is focused on hearing from other Contact Center executives, to share and discuss case studies and our own best practices. My personal learning and professional network seeded at the Executive Summit have extended well beyond the two-day time commitment made to attend the conference. The experiences I've had at the CCNG Executive Summits have been invaluable." - Matt Woody, Vice President, Consumer Contact Center - Central Operations, Fifth Third Bancorp
"The CCNG Executive Summit is a great opportunity and venue to meet with industry peers and industry sponsors to discuss hot topics. I always walk away with best practices that others have shared and can leverage within my organization." - Lynn A. O'Neill, Corporate Vice President, Service Organization, New York Life Insurance Company
"CCNG's Contact Center Executive Summit is a "must-attend" event for anyone who manages a contact center. This two day event contains valuable information on new call center processes and technologies, as well as Best Practices sharing from successful Contact Center leaders." - Candace Kothmann, Call Center Director, Texas Workforce Commission
For details on how to attend or present in future CCNG executive or mid-level management events, contact Michelle Porterfield, mporterfield(at)CCNG(dot)com.
View program details at – http://www.CCNG.com.
CCNG International Inc.
Founded in 1992, CCNG International Inc., CCNG is a member Professional Peer Network (PPN) for Contact Center and Customer Service Executives, Managers, and Leaders. Within the CCNG Member Network, Contact Center and Customer Service Professionals:
Connect for networking and sharing best practices.
Interact to enhance their professional network and gain valuable insight into Contact Center and Customer Service best practices and technology.
Share their experience and ideas contributing to the valuable discussion. All Call Center, Contact Center, Customer Care, Customer Service, and Customer Experience Professionals are invited to participate in the CCNG Member Network.
For more information about the CCNG Member Network and to gain access, please visit CCNG.com. "Like" us on Facebook and follow us on Twitter @CCNGNetwork.
# # #