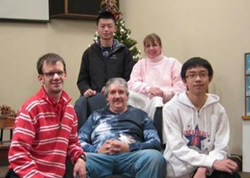 We do a lot together as a family and with our church community – sporting events and local festivals, for example – so our students always experience the authentic culture of western New York.
San Francisco, CA (PRWEB) May 13, 2014
Ayusa International, a non-profit organization that for 31 years has promoted global learning and leadership through high school student cultural exchanges and leadership programs, is launching its annual search for families in New York interested in hosting international students for the 2014-2015 school year.
Ayusa is looking for New York host families throughout the entire state, and specifically in and around the following communities:

Malone, North Bangor
Albany
Rochester, Olean
Syracuse, Ithaca
Staten Island
Long Island
The Gagliardo family of Olean – parents Louis and Jean, along with their adult son Joshua who lives at home – has been thrilled with the Ayusa program, hosting for foreign exchange students since 2009. "We started with Allen from China, followed by Jay from South Korea, Karel from the Czech Republic, then Ryo from Japan and Kevin from China, and this year Robin from China," Jean said. "We do a lot together as a family and with our church community – sporting events and local festivals, for example – so our students always experience the authentic culture of western New York." She added, "Since Joshua is a regular participant in the Special Olympics, I became a coach for some of the teams. Our exchange students in turn have become involved, and everyone enjoys it – we're one big family."
North Bangor residents Brenda and Thomas Hilaire have also participated in the Ayusa exchange program several times and are still in touch with many of their students. Brenda so enjoyed the program that she became a community representative for Ayusa so she could help other families have a similar experience. This year the Hilaires are hosting Mara from Germany, who has this to say about the program: "I like my family SO much! Speaking English was difficult at first because I was shy. They made me feel comfortable … since they made it so easy and fun, my English is really improving, and I am becoming very confident with myself."
Ayusa (which stands for "Academic Year in the USA") works with diverse families who are interested in hosting an international student of high school age. Families without children, empty nesters, military families, retirees, and single people are all welcome. Ayusa families come from all 50 states and reside in rural, suburban and urban communities. Host families provide three meals a day and a bedroom (either private or shared). Each exchange student is supported by a professionally trained local representative from Ayusa who works closely with the family, student and local school throughout the program.
How to Host an International Student
Families interested in hosting an exchange student with Ayusa can follow three simple steps:
Step One: View information online about Ayusa's program and types of students that are interested in living with a host family and spending a year in the United States.
Step Two: Complete your Ayusa application and criminal background check for hosting, which can be done online. Ayusa will provide a list of questions about families and their local high school, request five references, and ask family candidates to sign a program agreement. An Ayusa representative can help complete the application, answer any questions and connect potential host families with other host families in a specific community.
Step Three: Once the application is submitted, an Ayusa representative will assist with completion of the additional hosting requirements – and an in-home interview with an Ayusa representative. Once a host family is approved, they may login to select a student. Ayusa representatives can also help find a student to match a family's specific interests and activities.
Ayusa's exchange students are 15-18 years old and come from more than 60 countries around the world, including Brazil, Japan, Germany, Ecuador, France, the Netherlands, Morocco, China, and Spain. All students are fully insured, bring their own spending money, and are proficient in English.
"New York is a popular destination for Ayusa exchange students visiting the U.S., perhaps because of its extraordinary natural beauty, as well as our community's enthusiasm for cultural exchange and diversity," said Kathy Edenzon, Ayusa Senior Regional Director for the Northeast. "Our New York families truly enjoy sharing their activities and traditions with others. If you've ever wondered what it would be like to share your New York lifestyle with a student from abroad, now is the time to take action – please give us a call to start building an international friendship that will last a lifetime!"
According to The Council on Standards for International Educational Travel (CSIET), more than 27,000 international high school students between the ages of 15 and 18 years old studied in the U.S. during 2013-2014 as part of U.S. government-sponsored international exchange programs. Ayusa has been a member of CSIET for more than 25 years – since its foundation. CSIET evaluates U.S.-based high school exchange programs so that students, families and schools can identify reputable inbound and outbound exchange organizations.
Ayusa is a 501(c)3, and an official U.S. Department of State designated Exchange Visitor Program Sponsor. Families interested in learning more about hosting a foreign exchange student can visit http://www.ayusa.org or call 1-888-552-9872.
About Ayusa
Ayusa International (http://www.ayusa.org) is a non-profit organization founded in 1981 to promote global learning and leadership through cultural exchange and leadership programs for high school students from the U.S. and around the world. In addition, Ayusa administers multiple high profile grant programs funded by the U.S. Department of State and other organizations. Ayusa is a sister company of Intrax, a family of organizations that provide a lifetime of high-quality educational, work and volunteer programs that connect people and cultures. Intrax is headquartered in San Francisco with offices on four continents.