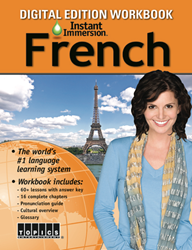 schools can save an additional 20% off already affordable Instant Immersion VT
Renton, Washington (PRWEB) May 13, 2014
TOPICS Entertainment wants to remind K-12 educators that The Instant Immersion™ VT Spring Savings Event ends soon! Instant Immersion VT language learning software courses allows K-12 students one-on-one e-learning instruction in English (ELL, EL, EAL, ESOL, ESL), Spanish, French, German, Latin, Chinese, Arabic, Russian and more than 115 other world languages. The Spring Savings Event ends May 31, 2014.
With special savings event schools¹ can save an additional 20% off qualifying purchases of the already affordable Instant Immersion™ VT, the world's most used² e-learning content platforms for learners of English and World Languages during the Spring Savings Event 2014.
Includes Free Instant Immersion™ Workbooks:
Qualifying purchases may also include complimentary use of Instant Immersion™ Workbooks available in Inglés, Spanish, French, German, Italian and Japanese to be used in conjunction with the e-learning course.
Register for Savings:
Register before May 31, 2014 at 11:59pm to qualify for savings for the 2014-15 school year.
Follow the link to register for a coupon code to qualify for the Special Savings Event: https://2BB2F4.campgn3.com/K12-Spring-Savings-Event
or at our Facebook app: https://www.facebook.com/pages/Instant-Immersion-VT/1414351402151221?sk=app_169839943222567
Additional 40 to 60% Off VT Companion Bundles:
Even deeper discounts are available when bundling VT Companion courses with Instant Immersion VT e-learning subscriptions.
Hurry! Offer ends May 31, 2014!
Follow the link to view the new Instant Immersion VT informational video hosted on Youtube: http://youtu.be/Pa3sxTtWL-U
Interactive, Fun and Engaging Research-Based Pedagogy:
Educators can have confidence that students will not only enjoy learning a new language through a variety of fun, engaging and interactive multimedia activities and games—at their own pace—but also that Instant Immersion VT's research-based pedagogy meets TESOL, ACTFL, and state curriculum standards.
Flexible to Use and Easy to Implement:
Easy to implement Instant Immersion VT is an ideal e-learning complement to teacher-led instruction as part of blended learning or flipped classroom, and also as a supplemental curriculum. Students can also use Instant Immersion VT for self-directed study and distance learning programs.
24/7 Internet Access:
Convenient for any schedule, Instant Immersion™ VT provides anytime course access via the Internet to help students reinforce and supplement classroom instruction. They can use VT at school, home, in the library, at friends' homes and even during breaks.
A complete List of Languages Offered by Instant Immersion VT Includes:
Afrikaans, Albanian, Alsatian, Amharic, Arabic (modern standard), Arabic (classic), Armenian, Assamese, Azeri, Basque, Bengali, Breton, Bulgarian, Burmese, Cantonese, Catalan, Chichewa, Chinese (Mandarin), Chuvash, Cornish, Corsican, Creole (Haitian), Croatian, Czech, Danish, Dari, Dutch, English (American), English (Canadian), Esperanto, Estonian, Faroese, Farsi (Persian), Finnish, French, French (Canadian), Frisian, Gaelic (Irish), Gaelic (Scottish), Galician, Georgian, German, Greek, Greenlandic, Gujarati, Hausa, Hawaiian, Hebrew, Hindi, Hungarian, Icelandic, Igbo, Indonesian, Italian, Japanese, Jèrriais, Kannada, Kazakh, Khmer, Kirghiz, Korean, Kurdish Sorani, Latin, Latvian, Lingala, Lithuanian, Luganda, Luxembourgish, Macedonian, Malagasy, Malay, Malayalam, Maltese, Manx, Maori, Marathi, Mongolian, Navajo, Nepali, Norwegian, Occitan, Papiamento, Pashto, Pidgin (Tok Pisin), Polish, Portuguese, Portuguese (Brazilian), Punjabi, Quechua, Romanian, Romansch, Russian, Rwandan, Saami, Sardinian, Serbian, Sesotho, Shona, Sinhala, Slovak, Slovenian, Somali, Spanish (Castilian), Spanish (Latin American), Swahili, Swedish, Swiss, Tagalog (Filipino), Tamazight, Tamil, Telugu, Thai, Tibetan, Turkish, Ukrainian, Urdu, Uzbek, Vietnamese, Welsh, Xhosa, Yiddish, Yoruba & Zulu.
About Topics Entertainment:
TOPICS Entertainment is the largest privately held multimedia publisher in the United States offering the DVD, software and audio industries' most diverse content at competitive prices in prestigious club, mass and chain retailers throughout the United States, Canada and Mexico. TOPICS represents well-known and respected brands, including National Geographic™, James Earl Jones Reads the Bible, the U.S. National Archives, public television's OVER® series, PBS®, the No. 1 best-selling language-learning line Instant Immersion™, and more!
About Instant Immersion™ VT:
TOPICS is now offering Instant Immersion VT (tttp://http://www.instantimmersion-vt.com) second language e-learning solutions directly to schools, businesses and other enterprise customers.
Footnotes:
¹ Special discounts apply for primary and secondary schools only in the U.S. and Canada on qualifying orders made during the Spring Savings Event period, which ends May 31, 2014. Qualifying orders requires a minimum of 20 students with 3 Instant Immersion™ VT e-learning courses per student.
² Globally, courses are marketed under the Instant Immersion™ and EuroTalk brands. There are over 10 million users from individuals to schools and districts (K-12), universities, businesses, and government and other organizations.