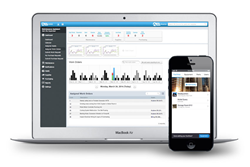 We provide the platform and matching engine to find them, avoiding otherwise long downtimes while you wait for custom replacement parts.
Toronto, Ontario (PRWEB) May 13, 2014
Global maintenance software provider and CMMS leader Maintenance Assistant today announced the release of its in-app re-seller and used equipment marketplace MA Share™. Users of the MA CMMS™ cloud CMMS solution are now able to post excess or decommissioned equipment, used parts and overstocked supplies directly from their CMMS to Maintenance Assistant's in-app MRO marketplace.
"There is over $1T of decommissioned, obsolete and written-off inventory sitting on shelves in the US alone. Turning this into new sources of working capital for our customers has been a key driver in the development of our in-app multi-sided marketplace," said Marc Castel, CEO. "What's been missing is an easy and painless way to both capture and post the relevant equipment information and then get it in front of a targeted audience right when they need it most. Our new platform can do this with the click of a button." Castel said as he recalled having millions of dollars of perfectly serviceable but obsolete equipment cluttering up the parking area of one of his previous businesses. "Turning that (written off equipment) into cash to fuel the business would have made our CFO pretty happy and would have had a significant impact on the bottom line."
For CMMS Users
"Storerooms all over North America have parts that will never be used," said Willie Wong, Project Leader. "In many cases, these are the 'never-been-used' original spares that the company purchased when they bought the equipment years earlier. Turning them into much needed cash just makes sense."
"Our users have told us stories about going to extraordinary lengths to find spare parts when older equipment goes down. Those parts may be on a shelf at a plant down the street, and the owner may be more than happy to sell them to you but you just have no idea they're there," said Daryl Sedgman, President. "We provide the platform and matching engine to find them, avoiding otherwise long downtimes while you wait for custom replacement parts."
Maintenance Assistant has made it easy to upload information to the marketplace. Using the tools in MA CMMS™, a manager armed with only a smartphone could help liberate thousands of dollars from used equipment and free up valuable floor space. The process is as simple as opening an asset record, clicking on the share icon, pricing the item and posting it. All the other necessary information is automatically created from the data in the user's CMMS, saving time and effort. The equipment listing is then visible to thousands of Maintenance Assistant CMMS users around the globe. "This is the first of many new Enterprise 2.0 innovations scheduled for release in 2014. We are fully embracing the power of spanning and connecting organizations to drive productivity and improve the bottom line," said Sedgman.
For Equipment & Parts vendors
Equipment and MRO vendors will also find the tool useful, as it will allow them to economically post their products to the maintenance marketplace and reach a large number of potentially new customers. Re-sellers or OEMs can easily sign up for a Maintenance Assistant CMMS user account, load their product catalogs from a CSV file and post them to the MA Source™ marketplace. "Our technology allows vendors to get their products in front of buyers and technicians as they're doing their work – right at the point of greatest need," said Bob Kandic, Chief Software Architect. "We've also integrated it directly with our purchasing module so prospective buyers can issue Purchase Requests, RFQs or Purchase Orders directly from inside their CMMS application."
MA Share™ comes as a free part of Maintenance Assistant's Computerized Maintenance Management Software (CMMS), the daily work order management software used by thousands of maintenance professionals around the world. If you are interested in learning more or getting your own branded CMMS for re-distribution to your customers, visit us online or contact our business development team directly.
About Maintenance Assistant
Maintenance Assistant is an Enterprise Asset Management (EAM) and CMMS cloud solution used by thousands of asset-intensive businesses around the world to transform their maintenance operations, eliminate waste and costly downtime, and manage risk. Our flagship product, MA CMMS™ is a core business management tool used by maintenance managers, technicians, engineers, purchasing agents and business owners to streamline their maintenance operations and improve their bottom line. Our API allows integration into many existing enterprise solutions, making it an ideal replacement for outdated maintenance software, paper or Excel. For more information, please contact: jeffrey.obrien(at)maintenanceassistant(dot)com.