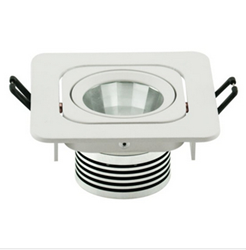 (PRWEB) May 13, 2014
COBLights.com, a leading lighting supplier based in China, is now offering huge price cuts, up to 30 percent off, on all its practical COB ceiling lights.
The wholesale COB ceiling lights from COBLights.com are specially made for the international market. The company's products are featured with novel designs, great looks and delicate craftsmanship; its newly released COB ceiling lights are no exception. At the moment, all of them are available at discounted new prices.
As a matter of fact, COBLights.com is a professional manufacturer of high-end COB lights. It is now providing various kinds of useful products on its website, including COB down lights, COB ceiling lights, COB track lights, COB flood lights and so on. Along with affordable products, the company also insists on offering speedy delivery, competitive prices and amiable customer support.
"We are happy to launch the COB ceiling light promotion. Our COB ceiling lights are specially designed for those who are in need of cheap, high-quality items. All these cheap lights are made from durable materials, and I think worldwide clients will like them. Please pay attention that the special offer will not last for decades; it will last until May 31, 2014," the company's sales representative says.
About COBLights.com
COBLights.com is a famous company of high-quality COB products. The company insists that COB LED products are more suitable than conventional LED packages when it comes to various lighting applications. All its items are featured with great power density, efficient heat dissipation, small space requirement and high performance. It wants to make online shopping more convenient and economical for worldwide clients.
For more information about the company's affordable items, customers can visit: http://www.COBLights.com/.