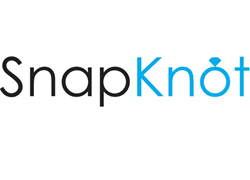 Los Angeles, CA (PRWEB) May 13, 2014
SnapKnot , the free online destination to help engaged couples find their professional wedding photographer, offers a Lead Match System (LMS) that is unique from other similar wedding sites. The system helps relieve the pressure and stress on couples who need to find their perfect photographer.
SnapKnot's LMS saves couples precious planning time and in turns helps photographers get what they always want: more qualified leads. Couples can create a complimentary account, enter their budget and wedding location and SnapKnot will match them with the number of photographers they requested without giving up personal information. Then, photographers that match their criteria can get in touch and connect with them securely through the site in a hassle-free environment.
Photographers who are interested in SnapKnot can try out the service for free with a one-month Pro trial . Pro membership allows photographers to list up to 5 cities, include unlimited photos and up to 3 HD videos on their profile and also provides them with top spots in the site search placement.
"At SnapKnot, we strive to make the experience of finding a wedding photographer as easy as possible," says CEO Reid Warner. "We believe in our lead match system and are thrilled that we are able to help photographers expand their portfolio and find new clients while at the same time making it a simple process for couples to find their perfect wedding photographer."
Couples can also enjoy SnapKnot's clean design and can browse an impressive database of photographers side by side based on their search parameters and privately contact the photographer of their choice to expedite their wedding planning.
On top of their unique lead match system, SnapKnot offers one-on-one customer service with photographers to provide insight and assistance on their membership as well as a wedding blog that gives visual inspiration, useful resources and expert advice for both engaged couples and photographers alike.
About SnapKnot
SnapKnot was created in 2010 with the vision of infusing online technology, beautiful imagery, simplicity, and social interaction into the wedding photography industry. The end result has been a self-service online marketing platform for thousands of wedding photographers, and a free online search and collaboration tool for engaged couples that helps them quickly and easily find their perfect wedding photographer worldwide. See the inspiration come to life in the company's video here: http://vimeo.com/snapknot/wedding-photography-video. For additional help, visit their SnapKnot.com or follow the company on their Facebook , Twitter , and Google Plus pages for wedding inspiration.